Courtesy Call with Brazilian Delegation
21 Apr 2014
Last April 18th, the Vice Mayor of Londrina city, Parana prefecture in Brazil, Mr. Luiz Augusto Bellusci Cavalcante along with the councilor of the same city, Mr. Roberto Kanashiro and the President of the Chamber of Commerce and Industry Brazilian-Japanese of Parana, Mr. Yoshiaki Oshiro paid a courtesy call to Prof. Higa.
The delegation inspired by the book and information expanded by Prof. Higa, asked for a solution to the illegal disposal garbage that causes bad odors, pollution and hygienic problems in Londrina city.
Prof. Higa explained that he will be glad to collaborate and end with the garbage problems which could be solve easily applying EM Technology.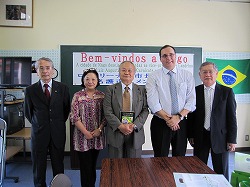 Prof. Higa with the delegation at Nago International Center