EM Anniversary Event in Germany
12 May 2017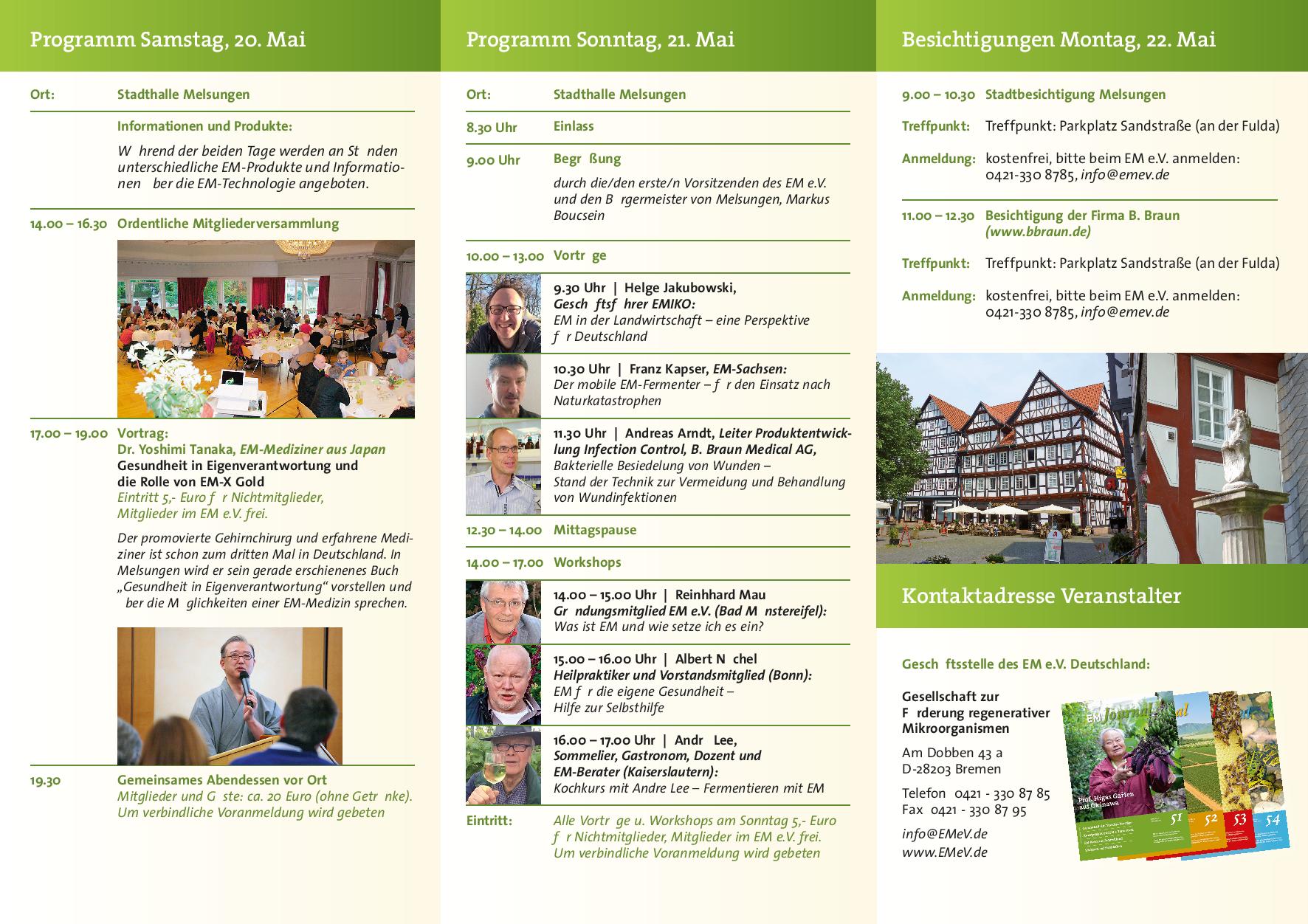 The NPO group, EMeV, is organizing the EM Anniversary and General Assembly for May 20th and 21th 2017 in Germany.
This is a two days event where participants will find booths with EM products and information on EM Technology.
In this opportunity, MD. Yoshimi Tanaka from Japan will be giving a lecture on healh and EM-X GOLD.
The event details are as follows:
<<Venue>>
Stadthalle Melsungen
Rotenburger Str. 10 - 12 , 34212 Melsungen
www.stadthalle-melsungen.de
<<Schedule>>
[May 20(Sat)]
14:00-16:30 Annual General Meeting
17:00-19:00 Lecture: MD. Yoshimi Tanaka, from Japan will talk on Self responsibility on health and the role of EM-X Gold
19:30 Dinner
*pre-registration is required
[May 21(Sun)]
09:30 EM in agriculture - a perspective for Germany
10:30 The mobile EM fermenter - for use in natural disasters
11:30 Bacterial colonization of wounds - State of the art for prevention and treatment of wound infections
14:00-15:00 What is EM and how do I use it?
15:00-16:00 EM for your health - Helping people help themselves
16:00-17:00 Cooking course with Andre Lee - fermenting with EM
For admission fees, bookings and further information please contact:
Geschäftsstelle des EM e.V. Deutschland
Am Dobben 43 a
D-28203 Bremen
Telefon 0421 - 330 87 85
Fax 0421 - 330 87 95
info@EMeV.de
www.EMeV.de