EM Introduced in a TV Show in Croatia
17 Mar 2017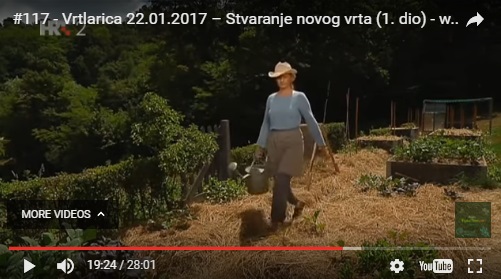 A TV show called "The Gardener", in Croatia,has introduced the original EM-1 product developed by Prof. Higa.
The presenter refers to the benefits of EM application in plants and soil that results in improvement, protection and stregthening of environment instead of using pesticides or chemical products.
She shows EM application in her experimental field.
You can see the presenter, Ms.Kornelija, talking about EM within 22:30 min to 25:15 min in the link below.
**Croatian only
For further information, please contact our partner in Croatia at:
EFEKTIVNI MIKROORGANIZMI ORIGINALNA TEHNOLOGIJA RIJEKA d.o.o.
No. F.Candeka33, 51000 Rijeka, Croatia
Tel: +00385(0) 981 380 474
Fax: +00385(0) 51 673 230
email:
nedeljko.jovanovic@ri.t-com.hr
Website:
www.emtehri.com