EM Mudballs Event in Croatia
9 Jun 2014
Our partner in Croatia has launched an EM Mudball event on June 4th. They threw up 5000 EM mudballs of 20000 they made along with volunteer and students.
They thrown the EM Mudballs into the sea where a ship sank 30 years ago causing a severe pollution.
Click on the image below to see the movie.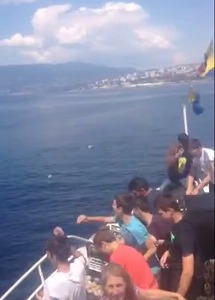 You may also read the original news in the Croatian website:
Tekli? on-line
Read also the pre-event workshop news by clicking at:
EM Mudballs Event in Croatia
For further information, please contact our partner in Croatia at:
EFEKTIVNI MIKROORGANIZMI ORIGINALNA TEHNOLOGIJA RIJEKA d.o.o.
Luzine 7A 510000 Rijeka Hrvatska, Croatia
Tel:00385(0) 981 380 474/
Fax: 00385(0) 51 673 230
Email: nedeljko.jovanovic@ri.t-com.hr
Web: www.emtehri.com
Contact: Mr. Nedjeljko Jovanovic