Dr.Teruo Higa's


Living A Dream
#163 Measures Against Natural Disasters and Re-learning the Starting Point of EM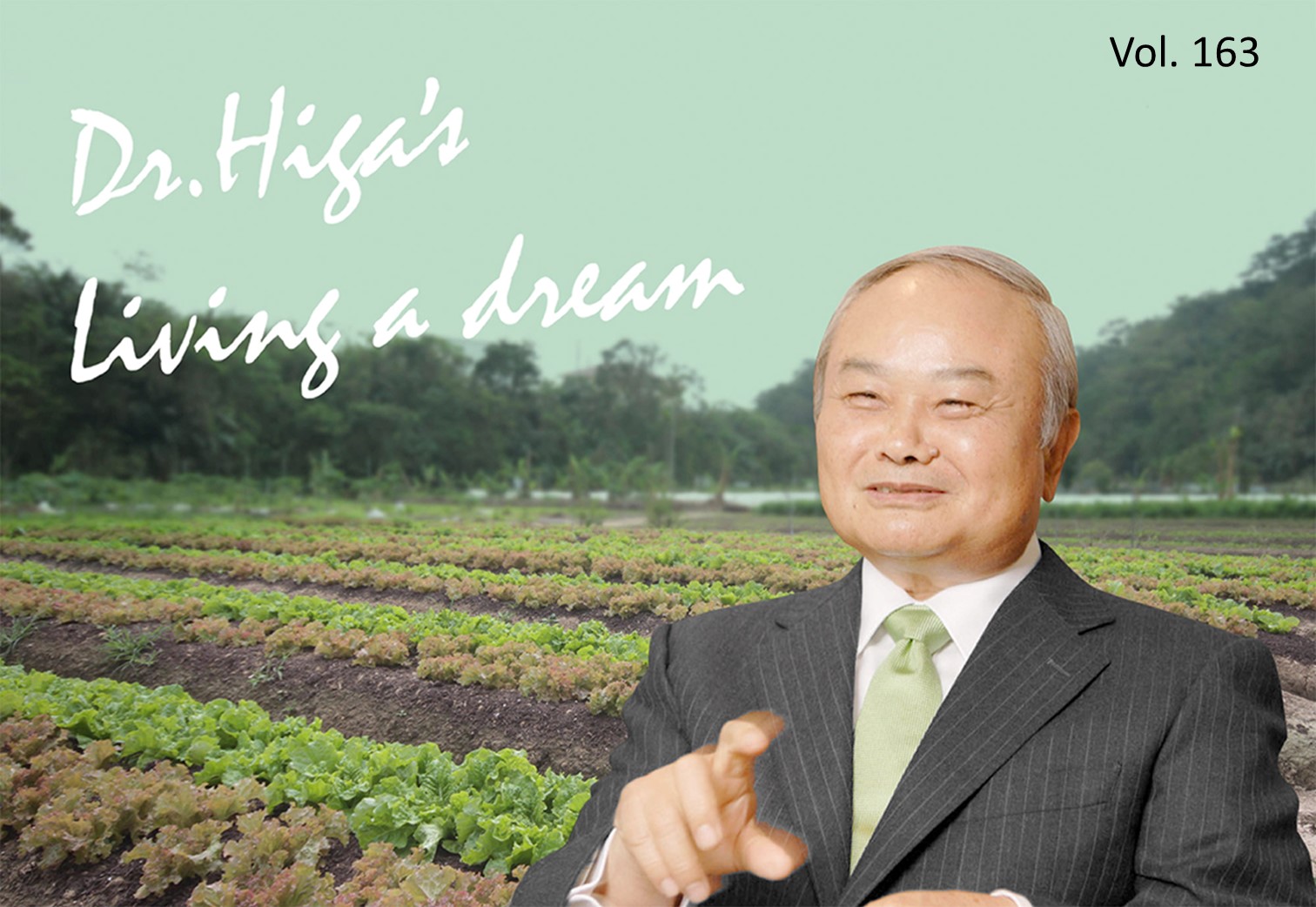 EM is incredibly effective in dealing with typhoons, floods, earthquakes, lightning, droughts, damage done by high and low temperatures, etc., and I continue to introduce many examples through this series,
DND (Digital New Deal)
, and elsewhere.
Japan is an island nation often prone to natural disasters, and its national development is based on building a country that is resistant to disasters. If we use EM as freely as we use water and air, on a daily basis, not to mention in civil engineering and construction, it will be easy to turn a major disaster into a minor one, and empirical results showing this are steadily coming in.
This versatility of EM, which I have repeatedly explained, is ultimately due to the fact that EM functions like a graviton, converting gravitational waves into energy. Gravitational waves are the origin of all energy, and the only way to make this quantum property work is to enhance the quantum superposition effect of gravitons.
The quantum world has elementary particle properties that can change into anything, including prayers and thoughts, which explains all religious miracles, but its origin lies in the phenomenon of Bose-Einstein condensation. Bose is a photon, and when this photon is rectified and condensed in layers, the quantum world and the real world are connected, and we see the phenomenon of miracles and unbelievable things happening.
People who have been liberally using EM for many years will experience this mysterious phenomenon countless times. It is natural that if we continue to use EM until it works, and stick to the EM lifestyle of freely using it, the energy in the environment and in the body will be rectified, and we will naturally see the miracle of a significant reduction in the damage caused by various stressors and shock waves. If results do not appear, you need to reflect on the fact that you used it insufficiently to achieve a layered effect.
Routine EM activities that demonstrate this starting point are continuing in various places, and one such activity is the use of EM to clean toilets at a junior high school in Osaka as one of the SDG's initiatives. There, a teacher under the guidance of Ms. Chizuko Nomoto of
the NPO Ehime Universal Village Study Group
, has taken the lead in carrying out daily cleaning, and he hopes to continue in the second semester as well. In addition, there is a group in Kurume City which is also conducting water quality conservation activities using activated EM (see image below). We would like to strengthen our genuine immunity by practicing not only a lifestyle that utilizes microbial technology to preserve the environment, but also a diet that regulates intestinal bacteria.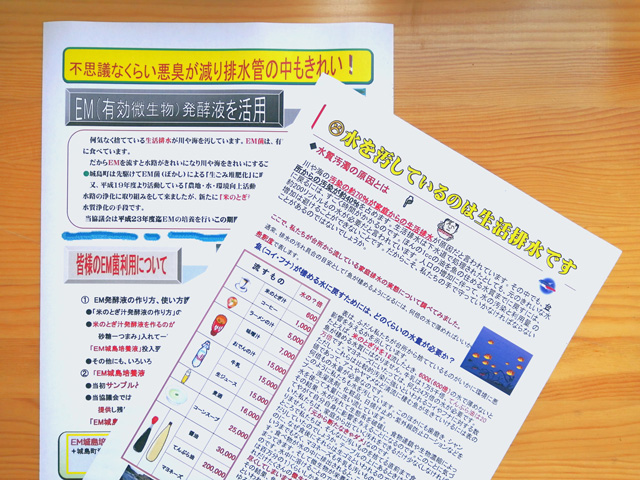 What's happening in Okinawa
In
the 160th article
I discussed how the course of Typhoon No. 2 changed drastically from the time it approached the main island of Okinawa. Contrary to the forecast of July 19, Typhoon No. 6 also bypassed the south side of Miyako Island and moved northwest on July 24. This course is at the edge of the 340 km boundary that was initially created, and like previous typhoons, it demonstrates the existence of the barrier effect in Okinawa. We have received reports from the local community that the damage was quite minimal, despite the long duration of the storm.
Regarding sugarcane, I predicted in this series last year that we would have an excellent harvest and we did, with an increase of 20%. We are expecting the same thing this year. The other information concerns various examples of limit breakthroughs that have never been possible before.
-----------------------------------------------------------------------------------------------------
Approaching the main island today = 7/20/2021 (Courtesy of Okinawa Times)
Typhoon No.6 approaches Okinawa Island today
Wind speed of over 25 meters in Minamidaito Island
According to the Okinawa Meteorological Observatory, as of 9 pm on the 19th Typhoon No. 6 is located about 180 km south of Minamidaito Island, and is nearly stationary. It will continue to develop and move to the west in the sea near Okinawa, approaching the main island of Okinawa with strong force from the 20th to the 22nd. The meteorological observatory is calling for caution because of strong winds, heavy rain, and high waves.

The central pressure of Typhoon No. 6 is 990 hectopascals as of 9 pm on the 19th. The maximum wind speed near the center is 25 meters and the maximum instantaneous wind speed is 35 meters. It made its closest approach to the Daito Island area on the night of the 19th. A storm surge warning was issued for the region, and the maximum wind speed exceeded 25 meters on Minamidaito Island.

On the 19th the meteorological observatory held a press conference to outline the course and impact of the typhoon. At 9 am on the 20th the typhoon had gradually strengthened, its central pressure reaching 975 hectopascals. It is expected to make its closest approach to the Okinawa main island area on the 20th to 22nd and to the Sakishima Islands on the 22nd to 23rd. The typhoon has changed northward from its originally expected course, veering to the west, with an increasing possibility that the main islands will not be in the storm path. However, depending on the atmospheric pressure and the strength of the typhoon, a storm warning may be issued for the main island area from the evening of the 20th.

A storm warning will most likely be issued for the Sakishima Islands for the period of the 21st to the 24th, and residents need to be careful about heavy rain. The main island area is expected to receive between 100-150 mm of rain in the 24 hours from 6 pm on the 20th. There is a possibility that a heavy rain warning will be issued. The meteorological observatory has issued a flood warning for low-lying areas, and a warning that rivers may overflow their banks.
-----------------------------------------------------------------------------------------------------
Typhoon No.6: Windstorm in the Main island and Sakishima Islands, 7/21/2021(Courtesy of Okinawa Times)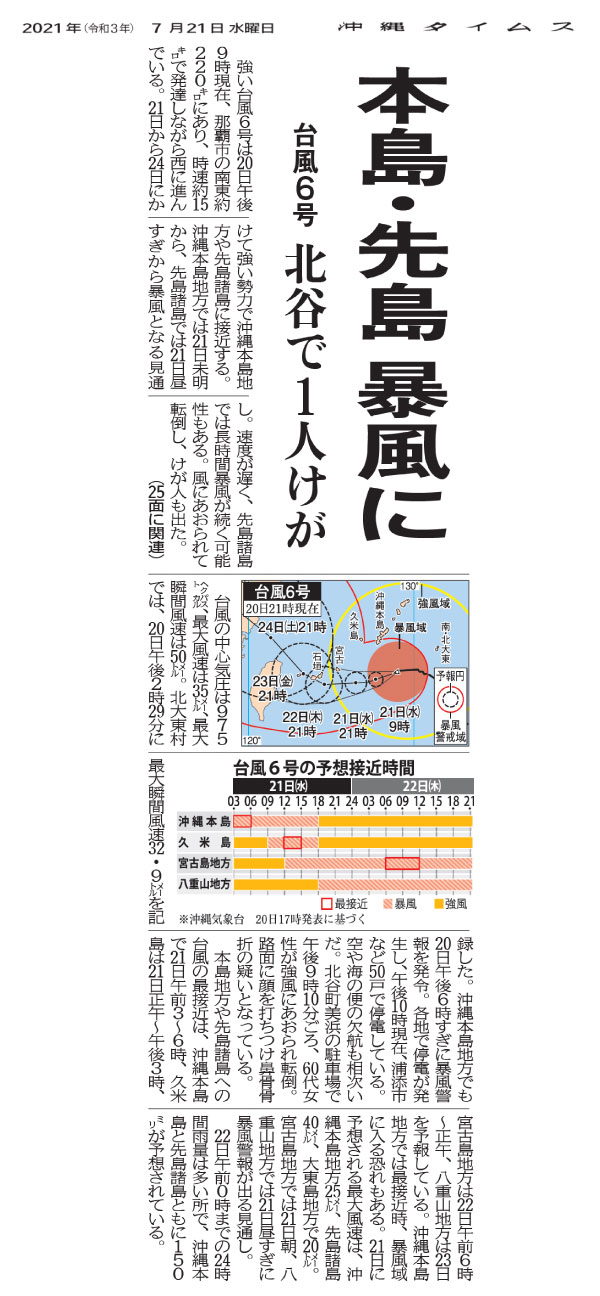 Windstorm in the Sakishima Islands and Okinawa Island
Typhoon No. 6: One person injured in Chatan Town

As of 11 pm on the 20th, Typhoon No. 6, an extremely powerful typhoon, is located about 230 km southeast of Naha City, and is moving west-southwest at about 15 km per hour. It will approach the main island of Okinawa and the Sakishima Islands in full force from the 21st to the 24th. Powerful winds are expected to strike the main island of Okinawa in the early hours of the 21st and the Sakishima Islands in the afternoon. Due to its slow speed, the storm may possibly linger for a while in the Sakishima Islands. Some people were injured when they fell due to the wind.

Pressure at the center of the typhoon is 975 hectopascals, with a maximum wind speed of 35 meters, and a maximum instantaneous wind speed of 50 meters. In Kitadaito Village at 2:29 pm on the 20th, a maximum wind speed of 32.9 meters was recorded.

A storm warning was also issued for the main island of Okinawa after 6 pm on the 20th. There were power outages many areas, and as of 10 pm, 50 households in Urasoe City and other areas were without power. Many air flights and ferry boats were cancelled.

Around 9:10 pm in a parking lot in Mihama, Chatan Town, a woman in her 60s was hit by strong winds and fell, striking her face on the road. It is feared she may have a broken nose.

The typhoon is forecast to make its closest approach to the main island of Okinawa and the Sakishima Islands between 3am and 6 am on the 21st, between noon and 3 pm on the 21st in Kume Island, between 6 am and noon on the 22nd in Miyakojima region, and on the 23rd in the Yaeyama region. At the time of the typhoon's closest approach the main island of Okinawa may enter the storm zone.

The maximum wind speed expected on the 21st is 25 meters in the main island of Okinawa, 40 meters in the Sakishima Islands, and 20 meters in the Daito Island area. A storm warning is expected to be issued for the Miyakojima region on the morning of the 21st and for the Yaeyama region in the afternoon of the 21st.

Over the next 24 hours there will be heavy rainfall, until midnight on the 22nd, with 150 millimeters expected to fall in both the main island of Okinawa and the Sakishima Islands.
-----------------------------------------------------------------------------------------------------
Sugarcane production up 20 percent, 7/13/2021 (Courtesy of Okinawa Times)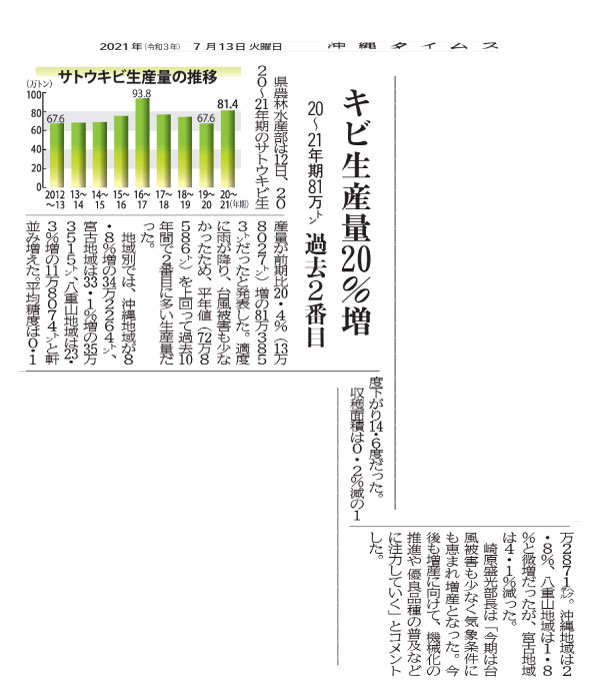 Sugarcane production up 20% 810,000 tons in 2020-2021 period, second highest yield

On July 12, the Okinawan prefectural government's Agriculture, Forestry and Fisheries Department announced that sugarcane production for the 2020-21 fiscal year increased 20.4% (138,027 tons) over the previous fiscal year to 813,853 tons. Moderate rainfall and minimal typhoon damage helped boost the volume of production to the second highest level in the past ten years, exceeding the normal volume (728,586 tons).

There was an across the board increase in the region: the Okinawa region increased by 8.8% to 342,264 tons, the Miyako region increased by 33.1% to 353,515 tons, and the Yaeyama region increased by 23.3% to 118,074 tons. The average sugar content dropped by 0.1 degrees to 14.6 degrees, and the total area harvested decreased by 0.2% to 12,871 hectares. The Okinawa region and Yaeyama region saw slight increases of 2.8% and 1.8%, respectively, while the Miyako region registed a 4.1% decrease.

Mr. Morimitsu Sakihara, General Manager of the Department of Agriculture, commented, "Fortunately we had little damage from typhoons and good weather this term, which helped boost production. In order to increase production we will continue to promote mechanization and the growing of superior varieties."
-----------------------------------------------------------------------------------------------------
"First time to bloom" Smiles blooming as well, (Courtesy of Okinawa Times)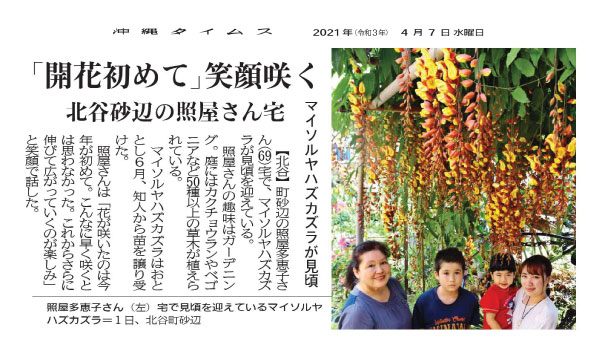 "First time to bloom" Smiles blooming as well

Thunbergia mysorensis is in full bloom
at the Teruya's house in Sunabe, Chatan Town

At the house of Ms. Taeko Teruya (69) in Sunabe, Chatan Town, the Thunbergia mysorensis is in full bloom. Ms. Teruya, whose hobby is gardening, has more than fifty species of plants and trees in her garden, including nun's orchid, Phaius tankervilleae and begonias. In June two years ago, she received a Thunbergia mysorensis seedling from an acquaintance.

With a smile on her face Ms. Teruya said, "This is the first year it's bloomed. I never thought it would bloom so early. I'm looking forward to seeing it grow even more".
-----------------------------------------------------------------------------------------------------
Jade vine blooms again, 5/28/2021(Courtesy of Okinawa Times)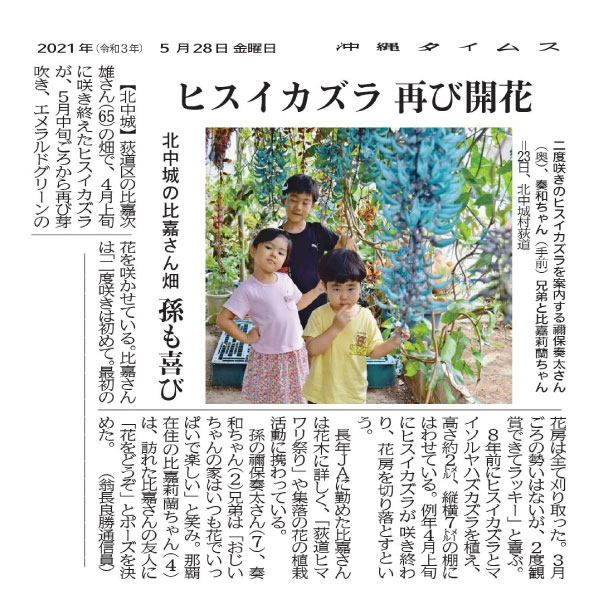 Jade vine blooms second time at Mr. Higa's field in Kitanakagusuku
His grandchildren couldn't be happier

In the field of Mr. Tsuguo Higa, 65, in Ogido-ku, Kitanakagusuku Village, the Jade Vine, which finished blooming in early April, sprouted again starting in mid-May, and emerald green flowers are now blooming. "This is the first time it has bloomed twice," Mr. Higa noted. "I cut off all the first bunches of flowers, and although they're not as lush as they were in March, I'm lucky to be able to see them twice in one season."

Eight years ago, he planted a Jade vine and thunbergia mysorensis on a trellis about two meters high and seven meters wide. The jade vine usually finishes blooming in early April and the flower clusters are cut off.

Mr. Higa, who worked for JA for many years, knows a lot about flowers and trees and is actively involved in the Hagido Sunflower Festival and flower planting activities in the village. His grandchildren, Kanata (7) and Kanawa (2), were all smiles: "We love Grandpa's house because it's always full of flowers," they said. Riran Higa (4), who lives in Naha, posed for a photo with a friend of Mr. Higa's showing him the flowers. (Reporter, Mr. Yoshikatsu Onaga)
-----------------------------------------------------------------------------------------------------
Red Sagaribana (barringtonia acutangula) that soothe and refresh us, 6/3/2021 (Courtesy of Okinawa Times)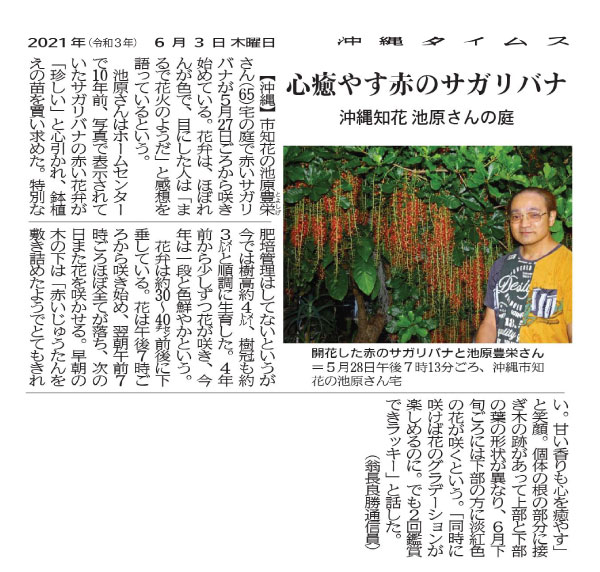 Red Sagaribana that soothe and refresh us
Blooming in Mr. Ikehara's garden

Around May 27 Red Sagaribana (barringtonia acutangula) started blooming in the garden of Mr. Toyoshige Ikehara (65), in Chibana, Okinawa City. The petals are almost brick-red, and people who have seen them say that they remind them of fireworks.

Ten years ago at a home center Mr. Ikehara was attracted by the "unusual" red petals of the sagaribana that were displayed in a photo and bought a potted seedling. He says he doesn't use any special fertilizer, but now the tree has grown to a height of about 4 meters with a 3-meter canopy. The tree has been blooming little by little for the past four years, and the color this year is especially striking.

The petals droop down about 30-40 cm. They start to bloom around 7 p.m. each day and have mostly all fallen by around 7 am the next morning, with new flowers blooming again the next day. Under the tree in the early morning he said, with a smile, "It's like a beautiful red carpet, with a sweet, soothing fragrance." The leaves of the upper and lower parts of the tree are different in shape because to grafting marks on the roots, and light red flowers will bloom in the lower part around the end of June. "If they bloomed at the same time, I could enjoy the gradation in color of the flowers, but I consider myself lucky to be able to see them twice," he said.
-----------------------------------------------------------------------------------------------------
Golden showers falling on the river, 6/10/2021(Courtesy of Okinawa Times)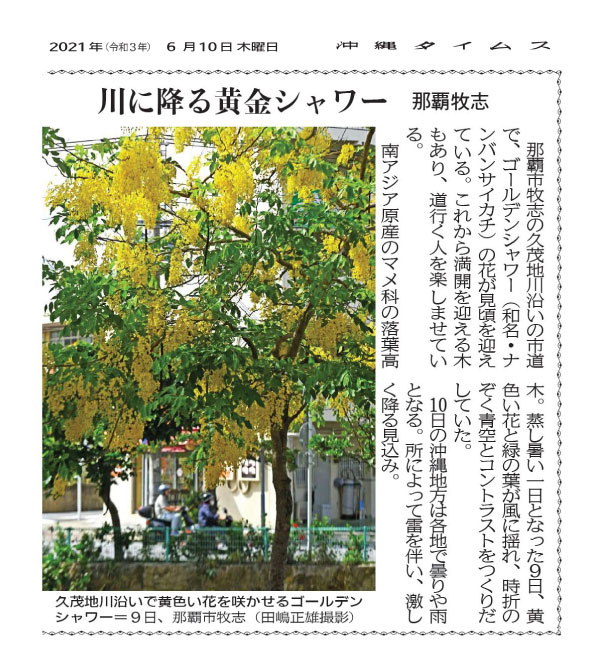 Golden Showers Falling on the River in Makishi, Naha

Golden showers (Japanese name: nanbansaikachi) are in full bloom along the Kumoji River in Makishi, Naha City. Some of the other trees will also be in full bloom soon, and passersby are sure to be delighted by the sight. Golden showers is a type of deciduous tree of the legume family native to South Asia. On the 9th, which was a particularly hot, humid day, yellow flowers and green leaves swayed in the wind, creating a lovely contrast with the blue of the sky that occasionally peeked out. On the 10th, it will be cloudy and rainy in many parts of Okinawa, intense lightning is expected in some areas.
-----------------------------------------------------------------------------------------------------
Sagaribana, sweetly fragrant at night, 6/11/2021(Courtesy of Okinawa Times)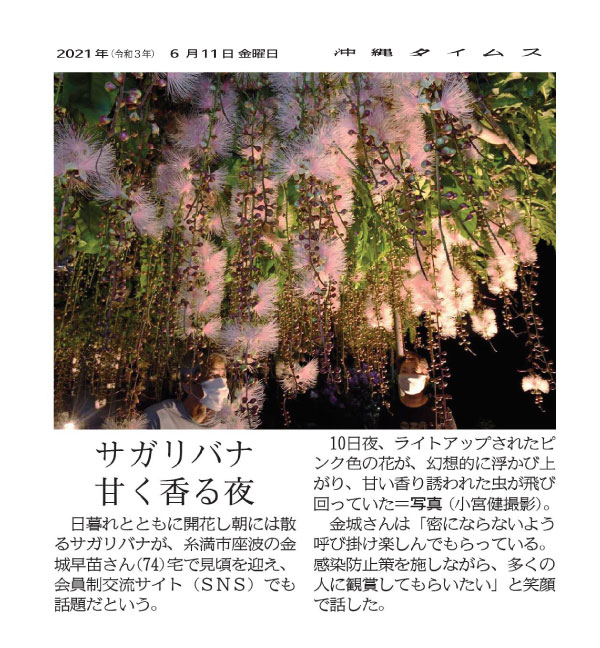 Sagaribana (barringtonia acutangula) , sweetly fragrant at night

Sagaribana, which blooms as the sun sets and whose petals then fall in the morning, are in full bloom at the home of Ms. Sanae Kinjo, 74, in Zamami, Itoman City, and are quite a hot topic on social networking sites (SNS). On the night of the 10th, the pink flowers stood out in a fantastical way when illuminated, and many insects were flying around, drawn to the sweet fragrance. (Photo by Ken Komiya)

"I'm asking people to enjoy the flowers while maintaining social distance," Ms. Kinjo said, adding with a smile, "I hope many people will appreciate the flowers, while taking measures to prevent coronavirus infection."
-----------------------------------------------------------------------------------------------------
Co-starring Nightly: Sagaribana and Queen of the Night, 6/18/2021 (Courtesy of Okinawa Times)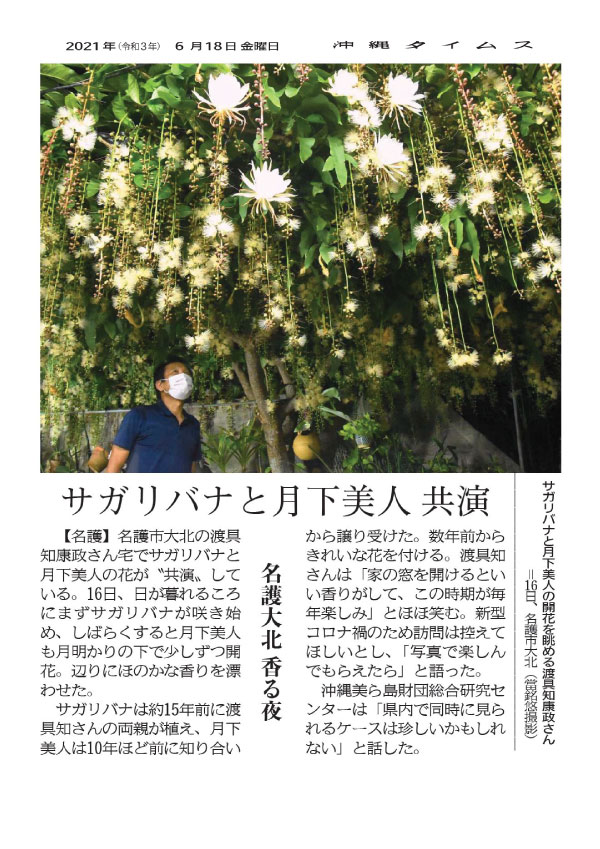 Co-starring Nightly: Sagaribana and Queen of the Night

Sagaribana (barringtonia acutangula) and queen of the night flowers are "co-starring" at the home of Mr. Yasumasa Toguchi's in Okita, Nago City. On the 16th, the sagaribana began to bloom at dusk, and after a while, the queen of the night flowers began to gradually blossom under the moonlight, giving off a faint, pleasant faint fragrance.

The sagaribana was planted by Mr. Toguchi's parents about fifteen years ago, the queen of the night was given to him by an acquaintance about ten years ago, and both have been producing beautiful flowers for several years. Mr. Toguchi commented, with a smile, "I really look forward to this time of year every year when I open the windows and the beautiful scent of the flowers wafts in." He asked us to refrain from visiting the site because of the coronavirus, and said, "I hope people can enjoy them through the photos."

The Okinawa Churashima Foundation Research Center noted that, "In Okinawa it may be rare to see them both at the same time."
-----------------------------------------------------------------------------------------------------
Seven of the world's largest fruits, 6/19/2021(Courtesy of Okinawa Times)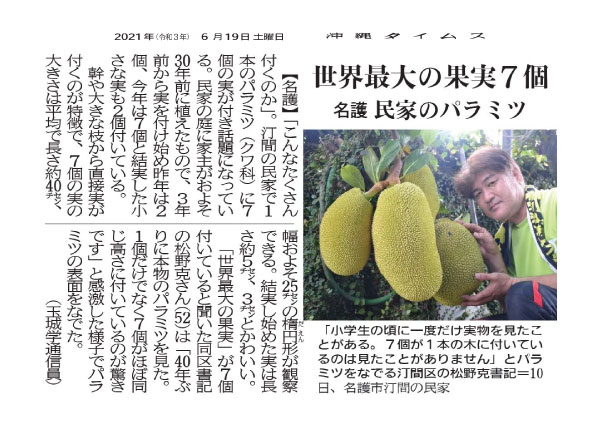 Seven of the world's largest fruits
Paramitsu (Jackfruits) in a home in Nago City

"How can so many fruits grow on one tree?" A topic of conversation in Teima is how a single paramitsu tree (mulberry family) has produced seven fruits at a home there. The owner of the house planted the tree in his yard about thirty years ago, and it started bearing fruits three years ago, two last year and seven this year, plus two other smaller fruits. One characteristic is that the fruits grow directly from the trunk and large branches, with the seven oval fruits averaging 40 cm in length and about 25 cm in width. The smaller fruit that has just begun to grow is cute, only 5 cm or 3 cm in length.

After hearing that there were seven of the "world's largest fruits," Mr. Matsuno, 52, secretary of the same ward, said "This is the first time in 40 years that I've seen a real paramitsu." He added, as he stroked the fruit, "I'm amazed to see not only one, but seven of them at almost the same height." (Reporter, Manabu Tamaki)

(Photo taken on the 10th at the home in Teima): "Back in elementary school I saw one of these fruits, but I've never seen seven all on one tree," Mr. Matsuno, secretary of Teima ward said as he stroked the paramitsu.
-----------------------------------------------------------------------------------------------------
Loaded with 300 mangoes 6/20/2021 (Courtesy of Okinawa Times)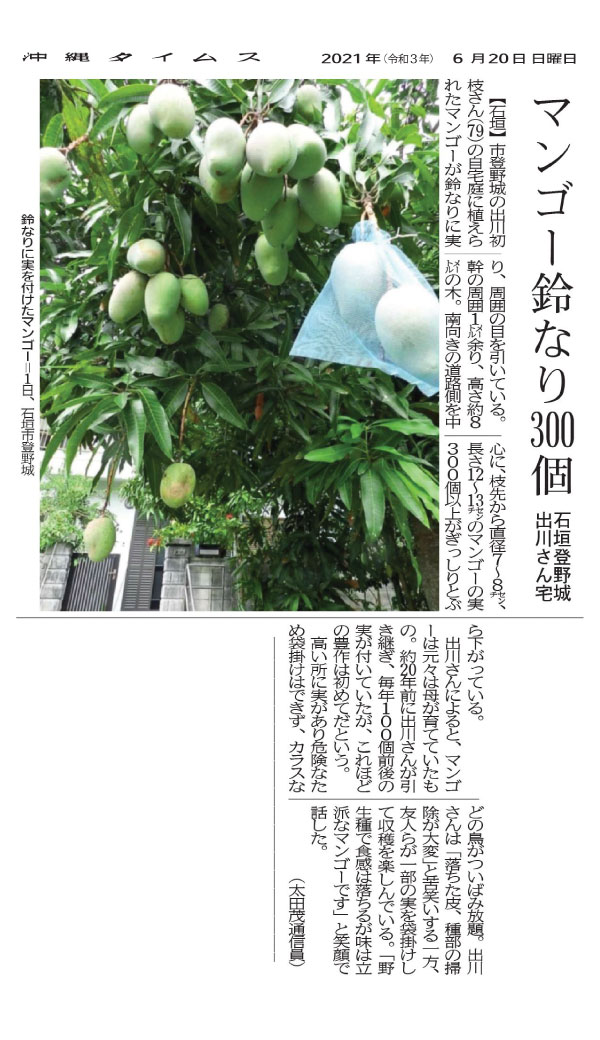 Loaded with 300 Mangoes at Mr. Degawa's House in Tonoshiro, Ishigaki City

A mango tree planted in the garden of Ms. Hatsue Degawa (79) in Tonoshito, Ishigaki City, is loaded with fruit, and the neighborhood is taking notice.

The tree is about 8 meters tall with a trunk about 1 meter in circumference. More than 300 mango fruits, 7 to 8 cm in diameter and 12 to 13 cm long, hang tightly from the tips of the branches, mainly on the south-facing side of the road.

According to Ms. Degawa the mangoes were originally grown by her mother. Ms. Degawa took over care of the tree about 20 years ago, with the tree averaging 100 fruits every year, but this is the first time she has seen such an abundant harvest.

Some of the fruits are located up so high they cannot be protectively bagged since it is dangerous to try to do so, and crows and other birds enjoy pecking at them. "It's hard to clean up the fallen skin and seeds," Ms. Degawa notes with a wry smile, while her friends enjoy harvesting some of the fruits they have helped cover with bags. "Wild mangoes have a better texture," Ms. Degawa added, "but these are wonderfully delicious." (Reporter, Shigeru Ota)
-----------------------------------------------------------------------------------------------------
Brightly colored cactus flowers blooming, 7/3/2021 (Courtesy of Okinawa Times)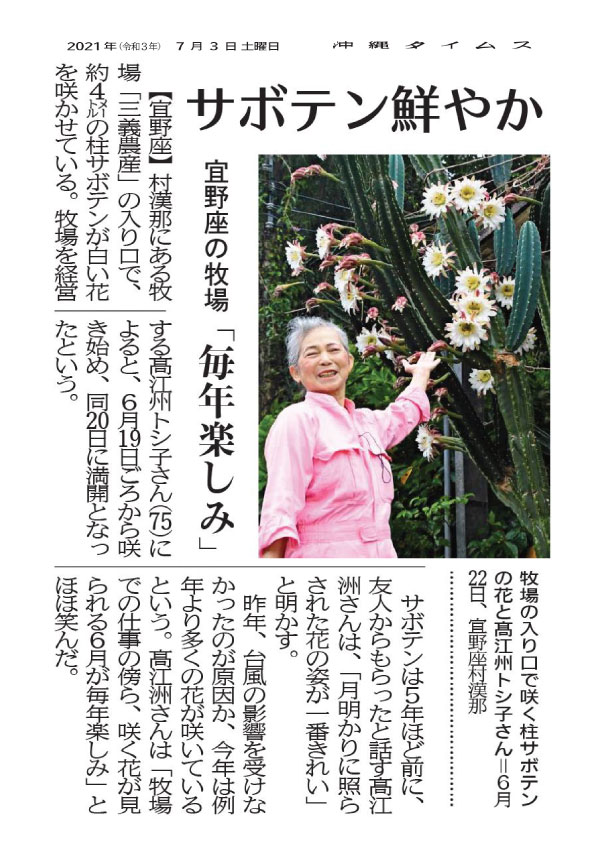 Brightly colored cactus flowers blooming at a ranch in Ginoza
"I look forward to it every year."

At the entrance of Mitsuyoshi Nosan, a ranch in Kanna, Ginoza Village, a four-meter tall pillar cactus is blooming with white flowers. Ms. Toshiko Takaesu (75), who operates the ranch, noted that the flowers started blooming around June 19th and were in full bloom on the 20th.

Ms. Takaesu got this cactus from a friend about five years ago, adding that "The flowers look most beautiful in the moonlight."

Ms. Takaesu said more flowers are blooming this year than usual, probably because the cactus was unaffected by last year's typhoon. "I'm looking forward to June every year," she said with a smile, "since I can see the cactus blooming as I work at the ranch."
-----------------------------------------------------------------------------------------------------
Loaded dragon fruit, 7/4/2021 (Courtesy of Okinawa Times)
Loaded Dragon Fruit
At a private house in Noborikawa, Okinawa City

At the home of Mr. Tetsuo Kanda in Noborikawa, Okinawa City, dragon fruit, a summer fruit, is turning red, and is ripe and ready to eat. Dragon fruit is a member of the cactus family native to Central and South America, and in Okinawa prefecture it ripens from July to November. Mr. Kanda has been cultivating them for the past four years and it has grown to produce about 200 fruits per year. Mr. Kanda said, "The fruits started to appear a week ago. The flesh of the fruit is red and quite sweet, so I always look forward to this time of year. I give the fruit away to my neighbors so they can enjoy them," he added with a smile.
-----------------------------------------------------------------------------------------------------
Long loofah growing in clusters, 7/11/2021(Courtesy of Okinawa Times)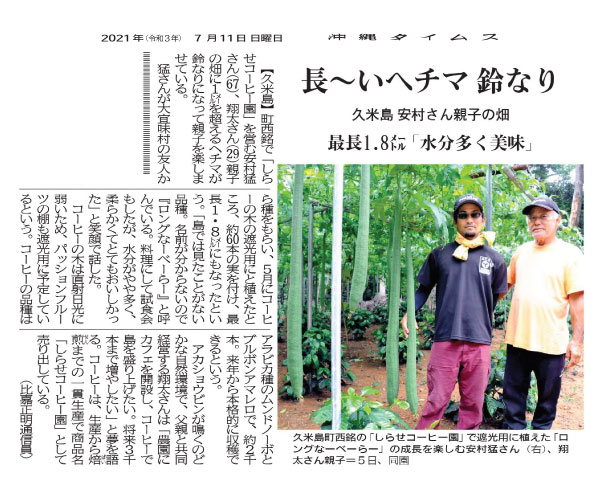 Long Loofah growing in clusters
Mr. Yasumura and his son's farm in Kumejima
The longest loofah is 1.8 meters in length, and "tastes good because of its high water content."

Mr. Takeru Yasumura, 67, and his son, Shota, 29, who run the Shirase Coffee plantation in Nishime, Kumejima Town, have loofah that are over 1.8 meters long growing in their field.

Mr. Takeru Yasumura received the seeds from a friend in Ogimi Village, and planted them in May to shade his coffee trees. Since then about 60 loofahs have grown, some up to 1.8 meters in length. "It's a variety I've never seen on the island," he noted. "I don't know the real name, so I call it 'Long Narbera.' We cooked it and got together to taste it, and it was quite tasty and soft, and slightly moist," he said with a smile.

Coffee trees are sensitive to direct sunlight, so they are also planning to use passion fruit trellises to provide shade. The coffee trees are Arabica Mundo Novo and Bourbon Amarello variety, and there are about 2,000 trees in the plantation. They expect to start fully harvesting coffee beans next year.

The plantation is a very peaceful environment where you can hear red-shouldered kingfisher birds sing. Shota, who co-manages the farm with his father, said, "I want to open a café at the farm and liven up the island through coffee. In the future I hope to increase the number of coffee plants to 3,000." The coffee is sold under the product name Shirase Coffee Plantation, with an integrated production encompassing each step of the process, from production to roasting. (Reporter, Masaaki Higa)

Mr. Takeru Yasumura (right) and his son, Shota enjoy the growth of Long Nabera which they planted for shading at the Shirase Coffee plantation in Nishime, Kumejima Town. 7/5/2021
-----------------------------------------------------------------------------------------------------
120 pumpkins per plant, 7/19/2021(Courtesy of Okinawa Times)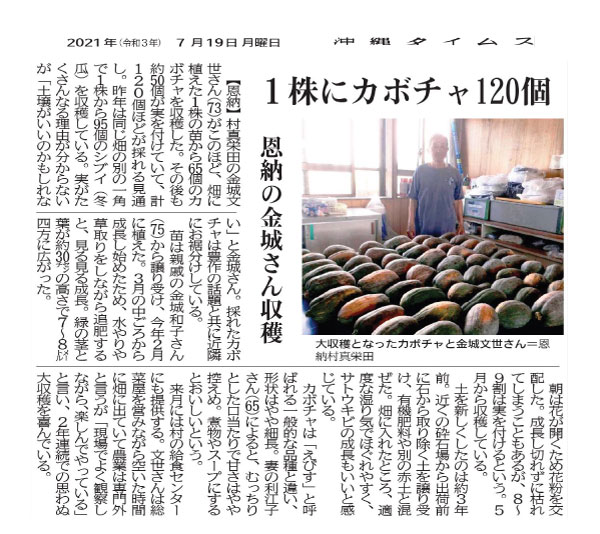 Mr. Kinjo in Onna village, harvested 120 pumpkins per plant

Mr. Fumiyo Kinjo, 73, of Maeda, Onna Village, recently harvested 65 pumpkins from one seedling he planted in his field. About 50 pumpkins are still bearing fruit, and he expects to harvest a total of about 120 pumpkins. "Last year, I harvested 95 Shibui (winter melon) from one plant in another part of the same field. I don't know why I get so many fruits, but it may be due to the high quality of the soil," said Mr. Kinjo. He likes to share the pumpkins he harvests with his neighbors, along with the news of a good harvest.

The seedlings were given to him by his relative, Ms. Kazuko Kinjo, 75, and he planted them in February this year. As they began to grow in the middle of March, he fertilized it while watering and weeding, and it quickly grew. The green stalks and leaves were about 30 cm high and spread out to 7 to 8 meters square.

In the morning, because the flowers opened there was cross pollination. Sometimes they fail to grow fully, and die, but 80 to 90 % of them bear fruit. He has been harvesting since May. The soil was renewed about three years ago, when a nearby quarry gave him some of the soil they removed from the stones before shipping, and he mixed it with organic fertilizer and another type of red soil. When he put it in the field, it was moderately moist and pliable, and he felt that the sugar cane would grow well too.

The pumpkins are slightly elongated in shape, unlike the common variety, which is called Ebisu. According to his wife, Rieko, 65, they are plump and slightly sweet. She says it is delicious when stewed or cooked in a soup.

Mr. Kinjo will donate some pumpkins to the school lunch center in the village next month. He runs a delicatessen shop and works in the fields in his spare time, and says he is not an expert farmer. "But I enjoy working in the fields, observing carefully what's happening," he commented, and is pleased with the unexpectedly large harvest he's had for the second year in a row.
-----------------------------------------------------------------------------------------------------
Bumper crop of plump pears, 7/20/2021 (Courtesy of Okinawa Times)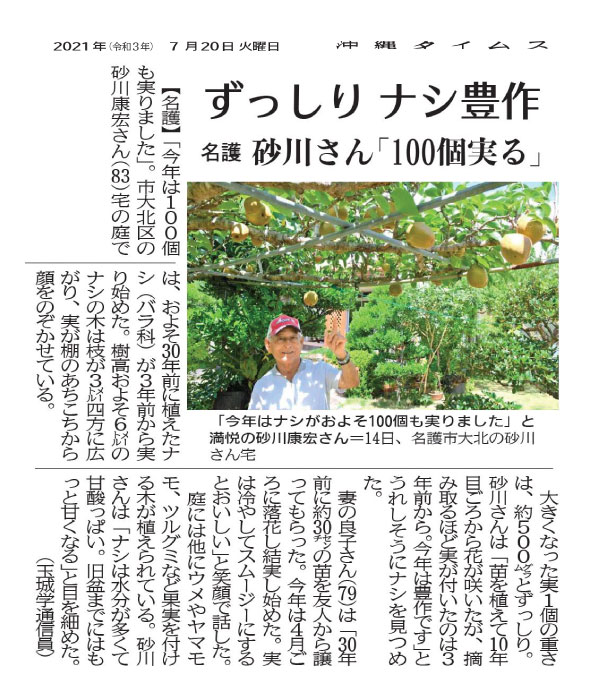 Bumper crop of plump pears
Mr. Sunagawa, Nago City notes, "We have 100 pears."

"This year, we have 100 pears." In the garden of Mr. Yasuhiro Sunagawa, 83, in Okita-ku, Nago City, a pear tree (rose family) planted about 30 years ago began to bear fruit three years ago. The branches of the pear tree, which is about six meters tall, spread out to three meters square, and fruits are peeking out in various places on the shelves.

One large fruit weighs a hefty 500 grams. Mr. Sunagawa noted that, "The flowers started blooming around the 10th year after we planted the seedlings, but it was only three years ago that we started getting enough fruits to pick. This year we're having a very good harvest," he added, gazing happily at the pears.

His wife, Yoshiko, 79, said, "I received a 30 cm tall seedling from a friend 30 years ago. This year the flowers fell in April and the tree began to bear fruit. The pears are especially tasty when cooled and made into smoothies," she said with a smile. Other fruit-bearing trees planted in the garden including plum trees, mountain peaches, and elaeagnus glabra thumb. "The pears are quite moist and are sweet and sour," Mr. Sunagawa said. "They will be even sweeter by the time the Bon Festival arrives." (Reporter, Manabu Tamaki)
-----------------------------------------------------------------------------------------------------
Bumper harvest of 20 paramitsu (jackfruits), 7/31/2021 (Courtesy of Okinawa Times)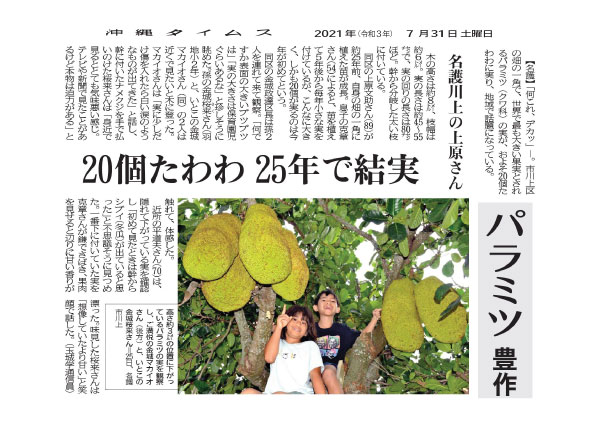 Bumper harvest of 20 paramitsu (jackfruits), bearing fruit in the 25th year
Mr. Uehara, in Kawakami, Nago City

"Wow, this is huge!" In a corner of a field in Kawakami-ku, Nago City, there has been a bumper crop of about twenty paramitsu, a member of the mulberry tree family said to be the largest fruit in the world, creating quite a stir in the community.

The tree is about eight meters tall and its branches are about six meters wide. The length of the fruit is about 45 to 55 cm, with a circumference of about 80 cm. They are attached to a thick branch that branches off from the trunk.

Mr. Bunsuke Uehara, 89, of the same ward, planted the seedling in one of his fields about 25 years ago and it has grown ever since. According to his son, Katsuaki, 54, the seedlings have been bearing small fruits every year since five years after they were planted, but this year is the first time they have grown so large and produced 20 fruits.

Masatatsu Kinjo, the head of the district, brought his two grandchildren to see. "What are those big patches on the surface?" he wondered, adding that the fruits are " about the size of a nursery school child." Two of his grandchildren, Saku Kinjo, a second grader at Haneji Elementry School, and his cousin Makaio Kinjo, the same age and in the same school, climbed the tree to get closer look. "When I slightly scratched the fruit," Makaio said, "something like white tears came out." Meanwhile Saku, who removed slugs from the trunk with her hand, said, "It was very creepy to see them up close. I've seen them on TV and in the newspaper, but the real ones are really something."

Mr. Michio Taira, 70, a neighbor, confirmed that the fruit was hidden and hanging down, looked at it curiously. "When I first saw them," he commented, "I thought they were shibui (winter melon) coming out of the trunk." When Mr. Katsuaki Uehara used a sickle to remove the lowest fruit and reveal its flesh, a sweet aroma wafted into the air. Saku, tasting the fruit, said with a smile, "It's sweeter than I expected." (Reporter, Manabu Tamaki)

Makaio Kinjo (in back) and his cousin Saku Kinjo were happy to observe the fruits of the paramitsu tree, which were hanging down about three meters high. 7/25/2021, Kawakami, Nago City

(August 26, 2021)