Dr.Teruo Higa's


Living A Dream
#142 Kirakira (Sparkling) Summer Vegetable Festa in 2019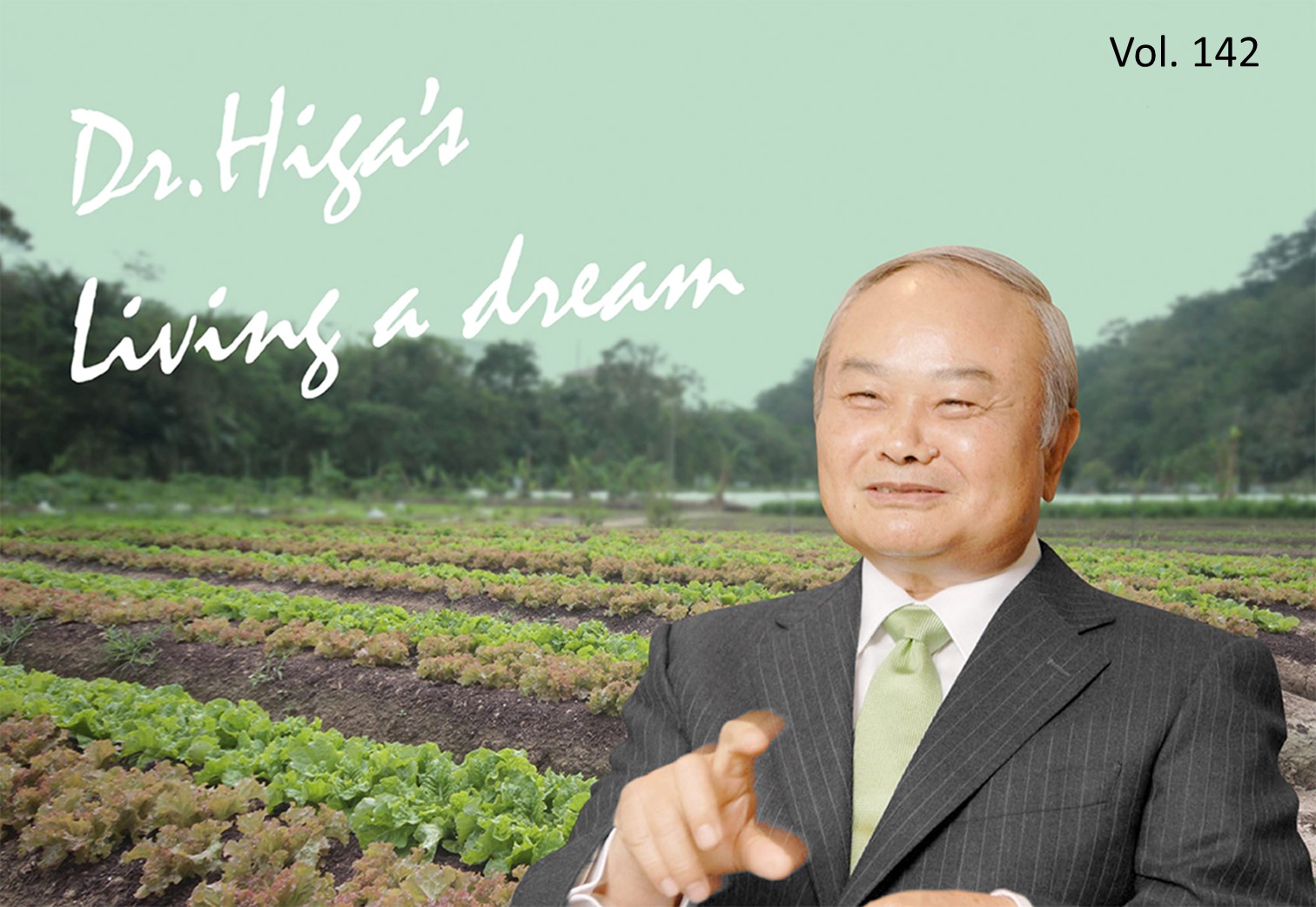 Kirakira (Sparkling) Summer Vegetable Festa in 2019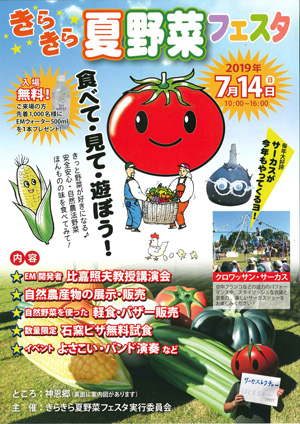 On July 14th, the Kirakira Summer Vegetable Festa in 2019 was held as shown on the right.
A Nature Farming Market was created and it was a wonderful event with over 3,000 people participating, an event that we can be justly proud to introduce nationwide. This festival was an outreach event that demonstrated the philosophy of Mokichi Okada, the concept of making Nature Farming a fun lifestyle and actively solving health and environmental problems, something I wrote about on pages 130 and 131 of my book, All about Love and Microorganisms (Hikaru Land Publishing).

It is now possible to spread and exchange information on the activities of realizing the Miroku Community of "Kyusei Shinkyo" in Tsu City, Mie Prefecture, which was also introduced mainly on pages 182 and 183 of the book, in other words, activities to make the Universal Village accessible. There were participants from six prefectures other than Mie Prefecture, and we can expect it will have a growing influence nationwide.

EM activities are starting to function as a shared asset for all humankind, supporting any religious organizations if they would like to participate, with the working assumption that all results will be publically accessible. Three years ago we adopted a method of making high-quality activated EM utilizing seawater, as well as a method of using EM Graviton rectified coal, and now even amateurs can achieve wonderful, visible results, all the while enjoying the process.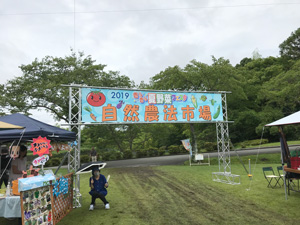 Whenever I've had the opportunity I've explained the Nature Farming method begun by Mokichi Okada, and have introduced numerous actual examples. In other words, by accumulating essential natural forces, it is possible to easily solve all the difficult problems facing agriculture.

The challenge for the current Miroku community was to implement no tillage, weed nor pest control, wildlife control, and natural disaster measures that even beginners can accomplish and realize an easily sustainable, heavenly form of agriculture.

In other words, being able to enjoy growing healthful food by yourself without relying on others, opens up the essence of the power to live. As a result of proactive efforts to deal with radioactive contamination in Fukushima, various EM hado technologies such as the use of salt and charcoal, the use of gravitron rectifying stickers, and black concrete for barriers have been developed and have produced great results.

As a result, Kyusei Shinkyo has set up "Hyakubairiki ("hundred-fold" Activated EM culture devices), in each Miroku Community to make Activated EM liquid, thoroughly adopted the graviton (gravity wave) technology that makes sense in terms of quantum mechanics, and worked to create an Universal Village that society will willingly accept. In response to these achievements, we started the Kirakira Summer Vegetable Festa three years ago to make these cases an integral part of society.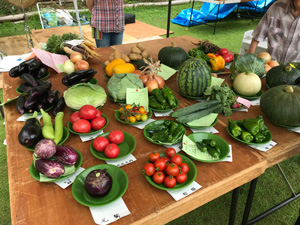 Most of the produce has reached the maximum level of the hado value, and some have such high hado value that they are no less effective than medical herbs. This makes it possible to realize the essence of eating healthful foods to prevent and cure illness.

There were 50 participating booths, and this is the first time in Japan that a large-scale event using Nature Farming method has been held. This event has evolved to the extent that it functions as an asset to society, providing answers to the problem of abandoned farmland, of how to provide greater roles for senior citizens, and the creation and revitalization of local communities.

This event will continue every year in the future and will be held at the same time next year. I expect more people to participate in this event and contribute to furthering the creative power of EM.