Dr.Teruo Higa's


Living A Dream
#170 Ecosystem Changes Observed in Okinawa in 2021 Part-2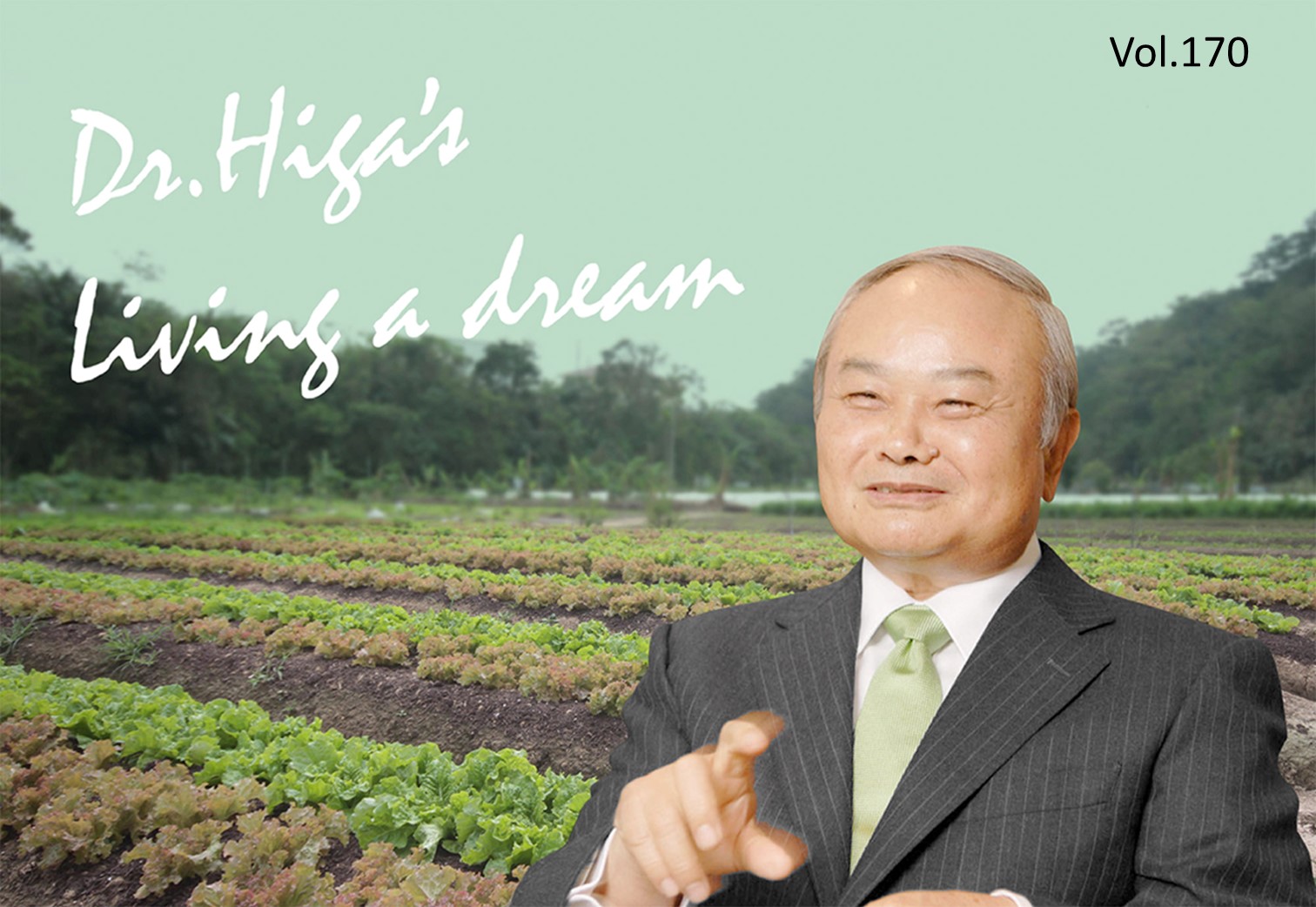 As I introduced in the 168th article in this series, since the EM graviton barrier was established in the Ryukyu Islands, the number of migratory birds has increased, as have reports of stray birds arriving in Okinawa that are not normally seen there.

Especially after the coronavirus pandemic, the power of the graviton barrier was increased to the point that plant viruses have nearly disappeared. Experts in the field find it impossible to explain, and I will present this information at another time.

The strength of the graviton barrier in the Ryukyu Islands is measured every year using an O-ring test. In 2013, using Space Mate (EM Ceramic) at a level of 1.0, it measured 2.0. It went up afterwards to 3.0, and in 2019 to 3.5, and most of the plant viruses disappeared.

Since then, the graviton barrier has been further strengthened, reaching levels of 5.0 in 2021 and 10.0 – 11.0 in 2022. This has also had a positive impact on the waters surrounding the Ryukyu Islands, and continuing from the 168th article in this series, I will here introduce the status of stray birds after that. (The following articles, including text-only articles, are provided courtesy of Okinawa Times.)

-------------------------------
Okinawa Times, Wednesday, January 26, 2022
Sea cormorants? 300 migratory birds fly to Nakagusuku Kuba Beach.

Shortly after noon on March 3rd, about 300 migratory birds, which are believed to be Japanese cormorants, arrived on the coast of Kuba, Nakagusuku Village. Mr. Miyazato (63) of Onaga Nishihara-cho, who happened to be at the beach at the time, commented, "This is the first time in my life I've ever seen them. When they spread out their wings, they were more than 1meter long. I was surprised that so many birds would fly overhead."

The Japanese cormorant is a migratory bird, a member of the cormorant family known for its cormorant fishing. They start their migration around December. It is rare to see a large flock of them flying over the sea. Two years ago, they were observed flying to the sea near Chatan Town. (Reported by Takako Tamanaha).

-------------------------------
Okinawa Times, Wednesday, February 16, 2022
A Brown booby soaring through the sky in Sashiki, Nanjo City

On the afternoon of the 15th, a seabird, a brown booby, flew to Tsuhako beach, in Sashiki, Nanjo City. Mr. Hitoshi Hoshiho, principal of the nearby, spotted the bird and photographed it. The brown booby was flying leisurely through the sky, occasionally diving into the sea to catch fish. Coral House School just moved from Naha City a year ago.
Mr. Hoshino, who observed this with his students, was delighted. "The nature right in front of our school is so wonderful," he remarked, "and I am glad we moved to this place." According to Mr. Masakuni Yamashiro of the Okinawa Wild Bird Society, brown boobies live mainly in the ocean and on uninhabited islands, and it is rare to see one stop by land on the main island of Okinawa.

-------------------------------
Okinawa Times, Monday, February 21, 2022
Storks on Yagaji Island. The person who discovered them feels "Lucky!"

On the 17th Katsuya Makishi, head of Gabu-ku, Yagaji Island, Nago City, spotted a stork, a special natural treasure, and hurriedly photographed it with his cell phone. He said he came to his own field while making the rounds of the sugarcane fields on the island and spotted a white bird. "It seemed to be digging up the soil with its beak," he excitedly reported. "It glanced at me but didn't move, so I approached it, but then it flew away."

According to Yutaka Toguchi, a Yagaji Wildlife Sanctuary manager, storks without a ring around its ankles have been seen on Kouri Island and Nakijin since 2015, but this is the first time a stork has been photographed on Yagaji Island. The stork photographed on Yagaji Island this time also did not have an anklet ring. Mr. Makishi, the head of the ward, said, "I didn't know it was a bird that was designated a special natural treasure. I was really lucky to see one."

(Reported by Manabu Tamaki,)

-------------------------------
Okinawa Times, Thursday, February 24, 2022
Short-eared owl in Tarama, protected from injury, died on the 5th

On Tarama Island on the 13th, Mr. Satoru Itokazu, a farmer, found a short-eared owl, a member of the owl family, that had an injured left wing. It was cowering in a sugarcane field that had been harvested. There has never been a recorded sighting of a short-eared owl flying to the island before.

Mr. Yukito Tomiyama fed and gave water the owl at his home and took care of it, but it died on the 15th. Mr. Tomiyama said, "A common kestrel (falcon family) was flying nearby, so it may have been attacked." The short-eared owl was photographed by Kunio Hanechi (73).
Short-eared owls fly throughout Japan to overwinter, and occasionally fly into Okinawa Prefecture in spring and fall. They may also be active during the day to feed on insects and small mammals. The name comes from the fact that the feathers on the head, which look like ears, are shorter than those of common owls, and short-eared owls have very acute eyesight.

(Editor, Daisuke Fukumoto)

-------------------------------
Okinawa Times, Wednesday, March 9, 2022
Rare bird Harlequin ducks in Kunigami and Tomigusuku
Photographed by Mr. Toguchi

Harlequin ducks, a rare bird that flies to the coastal areas north of Kyushu in the winter, have been observed in Tomigusuku City and Kunigami Village. The photo was taken by Yutaka Toguchi (59), a manager of the nationally designated Yagaji Wildlife Sanctuary. According to Mr. Toguchi, there have been no reported sightings of a Harlequin duck in Okinawa Prefecture since they were first seen on Zamami Island in 1974. The Harlequin duck is about 40 cm long, with a wingspan that exceeds 60 cm. They are found in eastern Eurasia and North America. They fly to Japan north of Kyushu to overwinter, and breeding has been confirmed in the coldest regions of Japan, Hokkaido and the Tohoku region. Mr. Toguchi and his colleagues found three female Harlequin ducks near Yone Fishing Port in the city on January 19th. They observed that the Harlequin ducks were pecking at sea lettuce and other seaweeds, but the last time they were seen was on February 26th.

On the 4th in Kunigami Village, Mr. Toguchi, who arrived on the scene after receiving information from a local resident, photographed a male harlequin duck on the beach at Tobaru.
It was resting on a reef or diving to prey on crabs. Mr. Toguchi said, "When I first saw it, I couldn't believe it was a harlequin duck. It must have even migrated to Okinawa because of the severe cold winter temperatures we're experiencing here. I was thrilled to see both males and females," he commented.

(Northern Press Department, Goro Nishikura)

-------------------------------

Okinawa Times, February 23, 2022
Long-eared owl was identified: Is it the first flyby to Ishigaki?
Photo by Mr. Kobayashi
Long-eared owl flew to Ishigaki Island (Photo by Masahiro Kobayashi)
A long-eared owl with a yellow belly and black, tiger-pattern vertical stripes was spotted in Ishigaki City. It is not known if it has flown here in the past, and this is the first time it has actually been photographed. Mr. Masahiro Kobayashi (47) of "Sea Beans," a field guide service in Ishigaki Island, took this photo. The photo was taken last year, on December 22. When he found an owl in the farmland and thought of it was a short-eared owl, but then identified it as a long-eared owl because of its orange chest and its "wing horn" ears sticking out from its head. It seemed to be searching around for prey. Mr. Kobayashi was pleased to discover it, saying, "It was only there for about five minutes, and then took off into the darkness, but it was such a moving experience for me."
-------------------------------
Okinawa Times, February 5, 2022
A parade of 1,000 Great cormorants
On the coast at Afuso and Serakaki Beach in Onna Village

・Above: A large group of great cormorants swam up to the beach in a long line.

・Bottom: A group of great cormorants that looks like the mane of a living creature on Serakaki Beach in Onna Village on August 2nd.
"So many black birds!" On February 2nd, about 1,000 migratory great cormorants (Phalacrocorax carbo) were observed resting on the beaches at Afuso and Serakaki in Onna Village, Okinawa Prefecture. They formed a long line, swimming in a large procession from the coast of Afuso to the rocky area at Serakaki beach.
Aproximately half of the great cormorants were up on the rocks together, and the entire rocky area looked like the mane of a living creature. The remaining great cormorants, who could not land there because the rocky area was packed, flew away again in long lines in search of a place to rest, and landed on the beach behind Afuso Elementary School in Atsuta, about three kilometers north.
Mrs. Saya Shigehisa (34), who lives in the same ward, went down to the beach with her 4-year-old son and took pictures with her cell phone. "At first I thought it was a large group of crows," she said. "I was very surprised to see them." Her son said, "The black birds had strange voices, and when I chased after them, they ran away like we were playing tag."
(Reported by Manabu Tamaki)
-------------------------------
Okinawa Times, March 4, 2022
"A tic-tic" sound. A stray bird after all, a Red-breasted Flycatcher
Identified on Ishigaki Island



Red-breasted Flycatcher that flew to Ishigaki Island on February 25th.
(Photo by Masaharu Kobayashi)

On February 25th, a stray bird, the red-breasted flycatcher, a member of the sparrow family and rarely observed in Okinawa Prefecture, was identified in Ishigaki City. This photo was taken by Masahiro Kobayashi, 47, of "Sea Beans", a field guide service in Ishigaki Island. The bird, a male with white feathers at the base of the tail, and an orange throat, was about 12 cm long. This variety of bird is found Europe and other regions and sometimes overwinters in Japan. Mr. Kobayashi said, "After a small bird went into the bushes with a female Daurian Redstart, I heard a distinctive "tic-tic-tic" call and thought it must be a red-breasted flycatcher. After waiting for a while, it perched on a tree branch," he said.


(Editorial committee member, Daisuke Fukumoto)


-------------------------------

Okinawa Times, March 9, 2022
A Eurasian hoopoe, with a splendid crest
Flew to Itoman City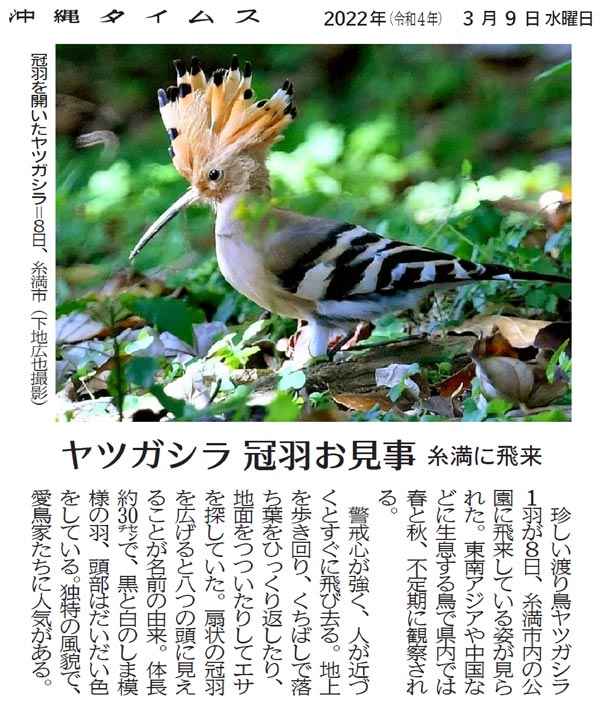 A Eurasian hoopoe with its crown feathers spread in Itoman City on February 8th
(Photo by Hiroya Shimoji)
A Eurasian hoopoe, a rare migratory bird, was spotted flying over a park in Itoman City, Okinawa Prefecture, on March 8th. This bird is native to Southeast Asia and China and is observed only at irregular intervals in Okinawa Prefecture in spring and fall.
The Eurasian hoopoe are very wary birds and will fly away as soon as someone approaches. The hoopoe was walking around on the ground, turning over fallen leaves with its beak and pecking at the ground, looking for food. The Japanese name of the bird, Yatsugashira, literally "eight heads," comes from its fan-shaped crown feathers, which look like eight heads when they spread out. The bird is about 30 cm long with black and white striped feathers and an orange head. Its unique appearance makes it popular among bird lovers.
(March 25, 2022)