Dr.Teruo Higa's


Living A Dream
#76: Well of Bonding
On March 11, 2011, Suzuki Organic Farms, located in the southern part of Sendai City, was also affected by the tsunami, as shown in photo 1. The Ministry of Agriculture announced that it would be difficult to grow rice in this area for the next three years. My firm belief has always been that, even in conditions like this, rice cultivation is possible if you use EM, and Mr. Suzuki did not hesitate to seed unhulled rice and raise rice seedlings.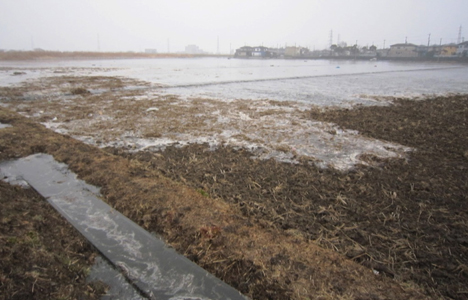 Photo 1
However, since the water supply and drainage system over a wide area were also destroyed, it was not possible to irrigate the rice paddy. Instead it was decided to dig a large well. The cost, though, was estimated at 6 million yen, and with the size of the rice paddy at 1.7ha, from a cost-effectiveness standpoint it seemed best to give up the idea.
Public institutions had no plans under the circumstances to conduct experiments to prepare for the next disaster. Mr. Suzuki, though, undertook the challenge to help farmers the following year, and what he has done is also very important as a response to similar disasters in the future; as such, he shoulders a historic responsibility.
Besides the historic responsibility involved, as a professional farmer Mr. Suzuki feels a strong passion for his consumers; if it were possible to make this passion a reality, the 6 million yen would be very inexpensive indeed. Based on his decision to proceed, as the description below details, we dug a well and, as seen in photo 2, planted rice.
Photo 2
Photo 3
As shown in photo 3, EM disaster reconstruction assistance projects were carried out in several other places as well, and with the cooperation of local public institutions we started by setting up a sign. Photo 4 shows the results by the end of July, and as shown in photos 5 and 6, by early September the project was successfully completed. As a result there were more farmers who resumed rice planting the following year, and this year (the third year) there is a normal fall crop, as if nothing had happened.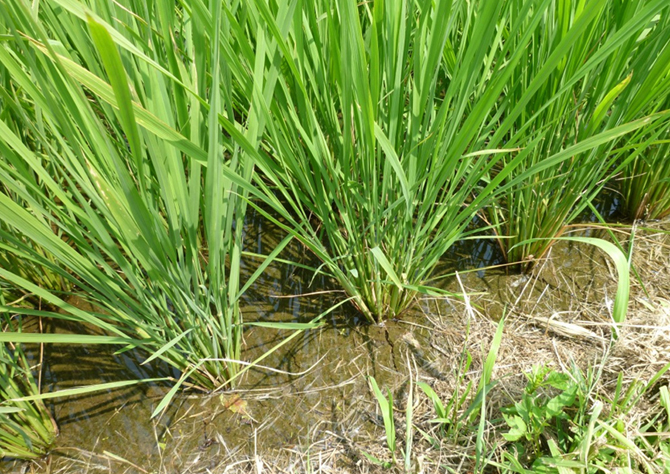 Photo 4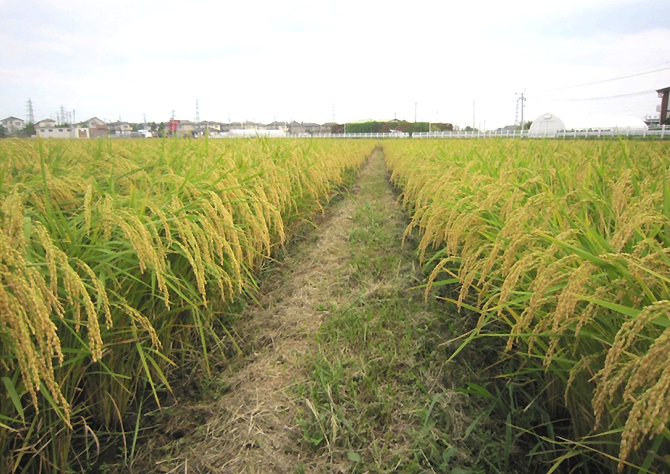 Photo 5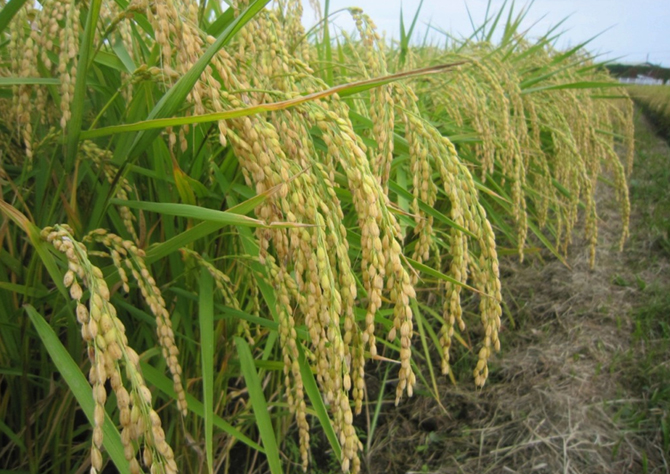 Photo 6
In order to widely convey the historic significance of this to posterity, and so that this "Well of Bonding" can play its role in the future, when TPP (Trans-Pacific Partnership) will bring on many challenges, we built a commemorative monument, and last September 13
th
held an unveiling ceremony as described below.
"Well of Bonding " Monument Unveiling Ceremony
Monument
Building project:
Representative:
Mr. Hidetoshi Suzuki
Chairman of the Executive Committee: Mr. Yasuo Kobayashi
Program

MC: Ms. Kazue Anzai
1. Opening Address:
Executive Board Member of the NPO United Networks for Earth Environment (U-net)
Mr. Akio Fukuda

2. Speech by Project Representative:
Representative of the monument building project
Mr. Hidetoshi Suzuki
3. Unveiling
(in no particular order)
Chairman of the NPO United Networks for Earth Environment (U-net)
Dr. Teruo Higa
President of DND Inc.
Mr. Shunichi Deguchi

Union President of Oginofukuro District Executive Union
Mr. Toshio Suzuki

Executive Board Member of the NPO United Networks for Earth Environment (U-net)
Mr. Akio Fukuda

EM Research Organization, Inc.
Mr. Yasushi Nishibuchi
Principal of Sendai Municipal Haranomachi Elementary School
Mr. Kazuhiko Endo
Managing Director
Conception Co., Ltd.

Mr. Shuji Oikawa

Representative
Monument building project
Mr. Hidetoshi Suzuki
4. Congratulatory speeches by guests of honor
Chairman of the NPO United Networks for Earth Environment (U-net)
Dr. Teruo Higa

Principal of Sendai Municipal Haranomachi Elementary School
Mr. Kazuhiko Endo

5. Greeting by the composer of the Monument poem
President of DND Inc.
Mr. Shunichi Deguchi

6. Toast
Executive Board Member of the NPO United Networks for Earth Environment (U-net)
Mr. Ryo Igarashi

7. Fellowship Time
8. Closing Remarks

Chairman of the Executive Committee

Mr. Yasuo Kobayashi

(Commemorative photo taken of the participants in front of the monument)

Adjournment

- - - - - - - - - - - - - - - - - - - - - - - - - - - - - - - - - - - - - - - - - - - - - - - - - - - - - - - - -
[Poem written to commemorate the occasion]
3
•
11:
The Day, That Time
All was sunk in sadness.
Color was drained from the everyday scenes we took for granted.
But we didn't lose heart.
Since then, one man stood up.
In the midst of his sorrow
he had both unshaken determination and a kind heart.
We will never forget our gratitude to Dr. Teruo Higa,
all the many tears of encouragement,
and the families whose hands clasped ours and who cried with us.
All the bonds forged here have called forth a miracle.
Blessed rain showered down on fields of rubble.
And pumps spouted out water.
Smiles have returned along with the golden ears of rice.
We smiled, and shed tears again.
In the revived fields, organic farming brought back optimism.
We will not forget—will never ever forget--the battle that began on that day, that time, because of the unprecedented great earthquake,
a once-in-a-thousand-year occurrence.
We take one step forward now.
We must begin walking, as we wipe away the tears.
Wind blows through the ears of rice,
and the sun shines down.
We look toward the hope of tomorrow.
Shunichi Deguchi
"Well of Bonding "
The Great East Japan Earthquake of March 11, 2011 covered the area around Mr. Hidetoshi Suzuki's house with seawater and sludge, and his rice fields were piled high with rubble. Though initially overcome by the devastation, Mr. Suzuki roused himself, repeating that he "had to grow rice this year," that he "didn't want to disappoint his customers" and that he was "afraid of losing his customers." Unfortunately, though, the waterway upstream was damaged, and the drainage pump station downstream was destroyed so that water did not flow at all. Still, he did not give up on growing rice this year.
Thinking he would dig a well on his property, he started a blog in which he uploaded photos and descriptions of the devastation. This came to the attention of Dr. Teruo Higa, Chairman of the NPO United Networks for Earth Environment (U-net), who lent strong support to Mr. Suzuki, and decided to build a "well of bonding" to help in the recovery.
Construction was given highest priority and they hurried to begin building it, but because of the dislocation in Miyagi Prefecture it was difficult to find a construction company. Mr. Ryo Igarashi, in charge of EM activities in Yamagata Prefecture, introduced the Nakayama Boring Company of Kaminoyama City (Mr. Akira Sakurai, President), and construction of the fifty-meter deep well was begun on May 9
th
and completed on May 15
th
. Everyone was overjoyed as water was pumped up from the well, and as the recovery of rice farming took a major step forward.
Mr. Hiromitsu Noriyasu, a former comedian, and film director and activist who goes by the nickname "Tentsuku Man," along with his group, took the lead in rubble removal and transporting sediment that had accumulated in the waterway, and made tremendous progress. The huge amount of rubble was removed in a very short time. Support groups from Osaka, Nara, and around the country also participated and their goodwill and strong fellowship continue to support Mr. Suzuki. U-net formed a reconstruction support team, and sent a salt damage response team, led by Mr. Akio Fukuda, of Sapporo, vice-chair of U-Net, came to Sendai. In Miyagi many people, including Suzuki Toru, Anzai Kazue, Tsunehiro Yashima and his wife Shizuko, Yoshiki Saito, Yuko Miura, Mariko Chiba, and others, all came together for many days to lead support activities using EM.
Salt damage measures were conducted under the guidance of Dr. Teruo Higa.
Officers from U-net headquarters (Bungoro Yoshizawa, Setsuo Iwai, and Koichiro Shiba) procured and supplied EM for the project. Yasushi Nishibuchi of the salt damage response provided technical guidance. Together they were all a major driving force. There was a need for a quick supply system to provide large amounts of EM for the 1.7 hectare field, and Katsuhiro Hirano of Kurihara City provided his own 4 ton tanker truck. Under the leadership of Hinako Takahashi (Member of the House of Representatives from Iwate), the Iwate Compost Company also took steps to aid us. U-net headquarters coordinated the collection of EM Bokashi, and many EM leaders and users from all over Japan participated.
Shunichi Deguchi, owner of the DND Company, continued to actively disseminate information via the Internet. Mari Miyakoda of the Higashi Nippon Broadcast Company helped with television coverage, while Takashi Saito and Kaoru Fujii did a steady job of collecting data on rice crops and salt damage. Toshio Suzuki, Union President of Oginofukuro District Executive Union, actively reached out to agricultural associations and provided union leadership. Suzuki Shogo provided the experimental field. Akio Ouchi and Masahiro Kikuchi provided construction support. All of them became a major force in promoting the restoration of rice growing.
Rice planting, which carries with it our hopes for reconstruction, took place later than usual, and was successfully completed in the period of May 24
th
to 31
st
.
We dealt with salinity in the field, and measured the salt concentration. We paid careful attention to the field during the period when there was a lack of rain in the mid summer months, and after many ups and downs we were rewarded. In the fall the heads of rice grew heavy and we had a good crop of "Reconstruction rice." The fields were filled with golden waves of rice and the rich scent of a good harvest. We were very satisfied with the yield and taste of the rice after harvesting. We asked a private inspection agency to check for radioactivity, with the result that neither radioactive iodine or radioactive cesium were detected. Hidetoshi Suzuki 's strong passion called forth the goodwill of many people.
Fields that were covered in debris and seawater have been remarkably revived, thanks to the "well of bonding," "EM," and the "goodwill" of so many. Hidetoshi Suzuki's fervent hope that future generations would remember the awful destructive power of the earthquake and tsunami led to the memorial building and monument being erected. We are recovering now from the destruction of the Great East Japan Earthquake, and I dedicate these remarks to Hidetoshi Suzuki and his indomitable spirit that has helped recover rice production, and to all those who have supported him in this effort.
Yasuo Kobayashi
Photo 7 shows the shrine set up at the "Well of Bonding," and photo 8 shows the monument. Photo 9 shows Mr. Suzuki describing how the process of construction was carried out, and photo 10 is of the participants at the ribbon cutting ceremony.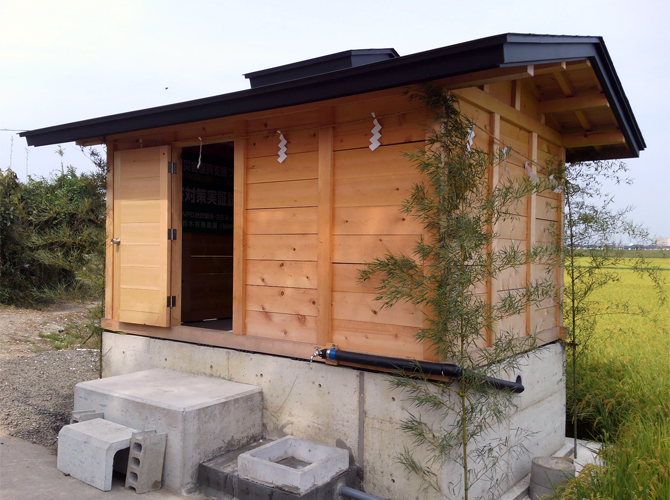 Photo 7
Photo 8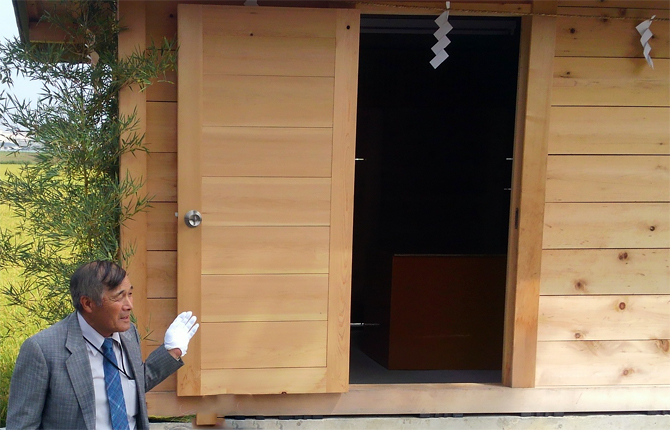 Photo 9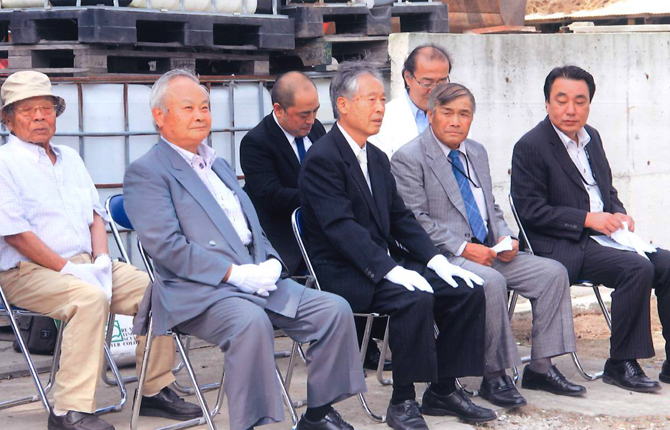 Photo 10
Photo 11 is a sign that was in the paddy field. In the center of photo 12 is a pump, and on the wall is a detailed description of activities that led to construction. Photo 13 shows this year's fall crop.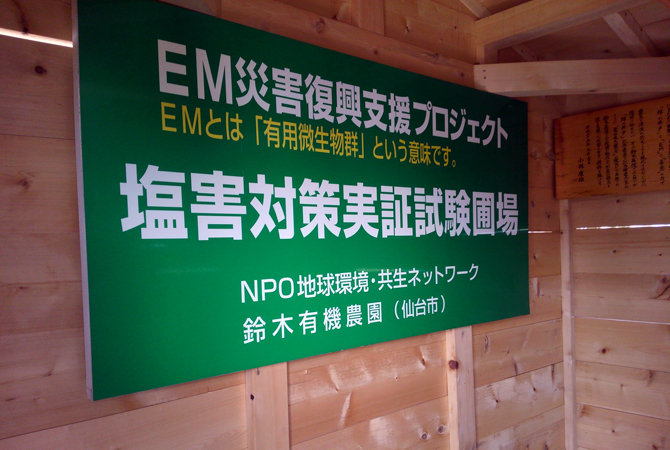 Photo 11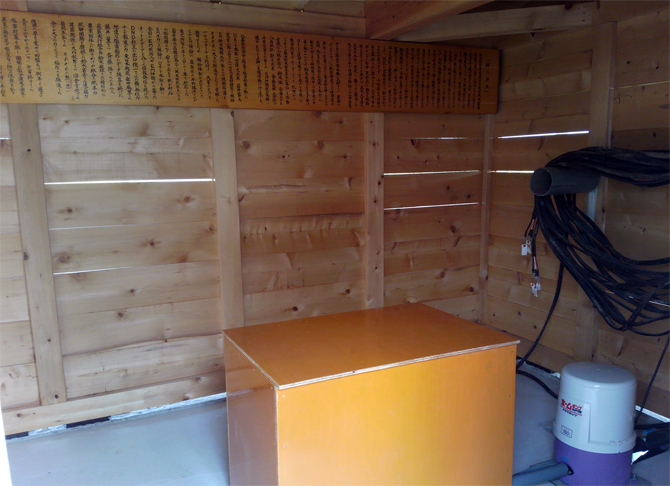 Photo 12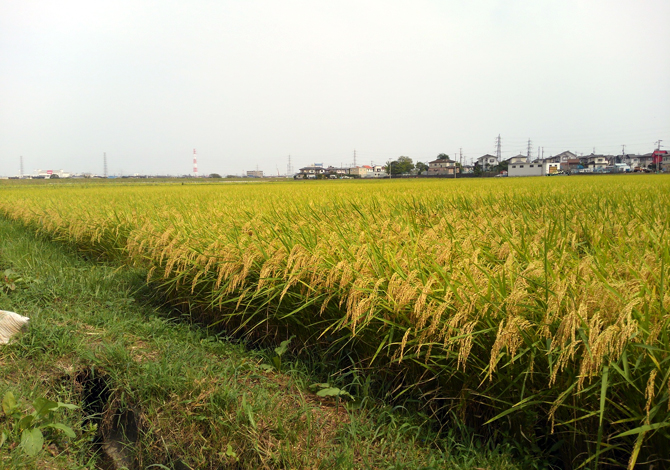 Photo 13
The Future Role of the "Well of Bonding."
Mr. Suzuki's rice fields, as is true of most rice fields throughout Japan, would normally have no water in them from after they are harvested to when they are planted again. To enrich the ecosystem and protect biodiversity, they are untilled, with no use of agrochemicals or chemical fertilizers, and no weeding; they are able to obtain a high yield, ultra-high quality crop of healthy food that both prevents sickness and promotes healing, in other words, sustainable rice cultivation that is safe, low-cost, of high quality and high yield. In order to do this it is necessary to use winter water (water put on the field during the winter, after harvesting).
This "well of bonding" fulfills a new role in this ultimate type of rice growing. In order to ascertain future results, we decided to hold a yearly study group, called "The Future of Rice Cultivation," in September, on site.
This type of rice cultivation not only protects the ecosystems and biodiversity of Japan, but also purifies the sea and rivers, enriches natural resources, and will fundamentally protect the health of the people. Agriculture will once again indeed be the "foundation of the nation." This will not only allow rice farming to flourish after TPP regulations go into effect, but will allow Japanese rice to be a major export industry. Thanks to this rice cultivation, abundant, ideal coastal fishing will also be possible.
In conclusion, I would like to express my deepest gratitude and appreciation to Mr. Suzuki and all the many others who worked to make the "Well of Bonding" a reality.