Dr.Teruo Higa's


Living A Dream
#158 Virus-free Okinawan Plants Through Use of an EM Graviton Barrier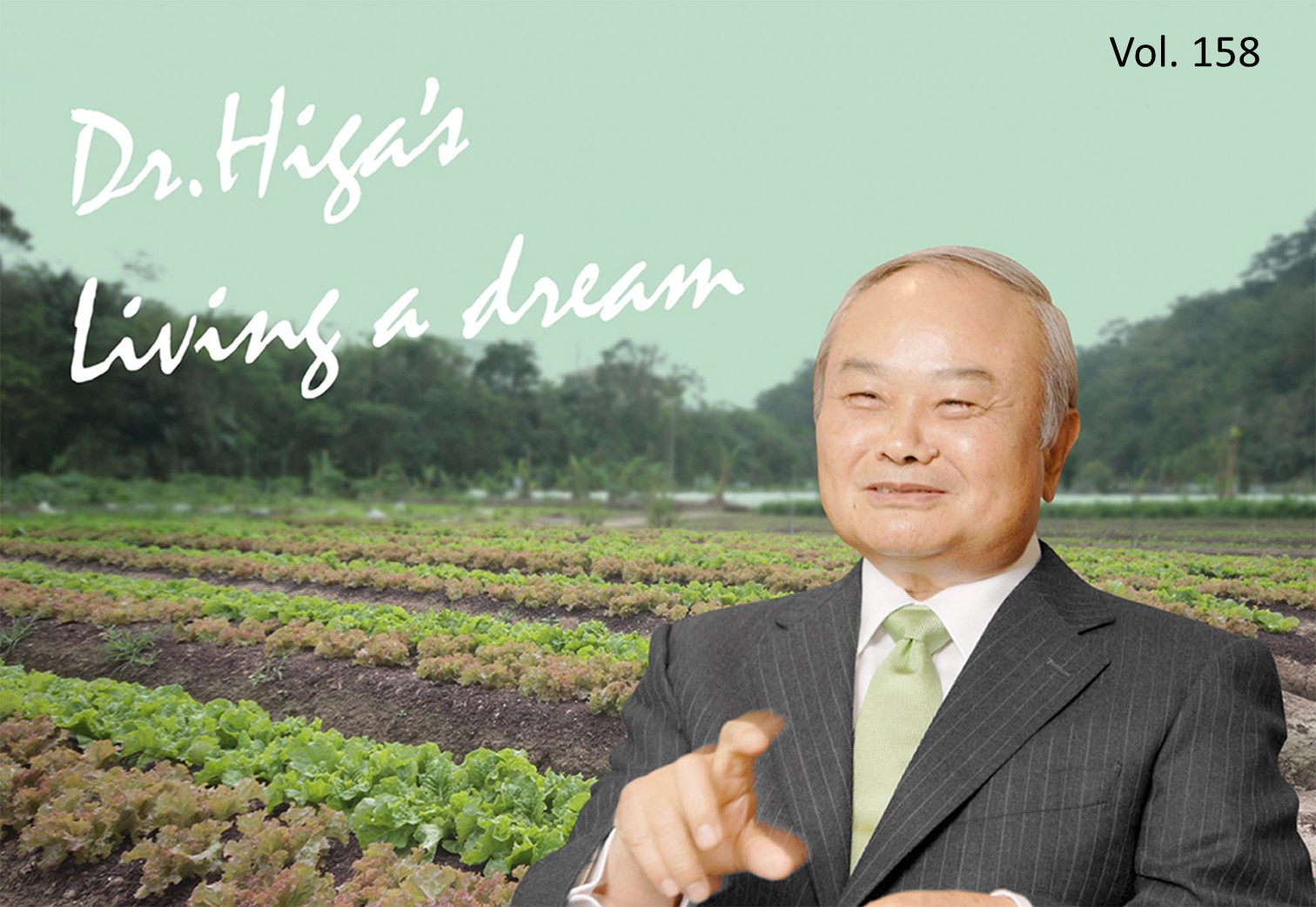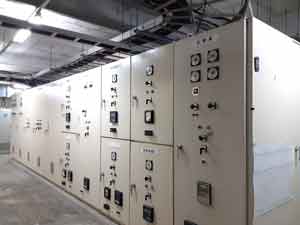 As I wrote in the
149th edition
of this series, on April 23, 2020, we took bold steps to raise the Hado value of the EM・X GOLD production line in order to strengthen measures against the novel coronavirus. At the same time, we strengthened the Hado of the eighteen 6,600-volt transformers in
the Hotel Costa Vista
, etc., greatly raised the level of the EM barrier throughout the Ryukyu Islands, and have continued to disseminate, as needed, information on the results of what is happening in Okinawa.
In the
150th edition
of this series in June 2020, we introduced an unimaginable effect, which occurred only about two months after treatment. In a word, the viruses of various plants have disappeared. In addition, natural disasters, including Typhoon No. 10, have been extremely reduced, greenery has become even more lush, and news about flowers has been filling local newspapers every day.
EM Ceramics' Hado has a virus-suppressing effect, and I have already introduced various examples of its application. One thing that is clear so far is that Hado can be sent in an extended manner over power lines and is shown to be reproducible through O-ring tests and various Hado measurement methods.
As I explained in the
151st edition
of this series, the Hado of the EM barrier in Okinawa (Ryukyu Islands) has now reached 3.9 while EMX Ceramics and SPACEMATE are 1.0. There is also a method of using water that SPACEMATE or EMX Ceramics have soaked in, in combination with EM7 or activated EM solution, as a countermeasure against plant pests and viral diseases.
Cucumbers and tomatoes are fine at this level, but potatoes and any tuberous plants must be 2.0 or higher; papaya virus is the strongest and difficult to control unless the Hado of the EM barrier is 3.1 or higher. Viruses have the property of being evolutionarily virulent, so long-term observation is required.
The papaya presented this time had traces of the virus on the top in June 2020, but as of February 2021 these have completely disappeared. Papaya virus is particularly viable in winter, and even healthy strains of the fruit have a slight yellowing at the top, however this year such cases have not occurred anywhere in Okinawa (See Photos 1 and 2).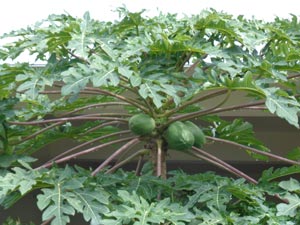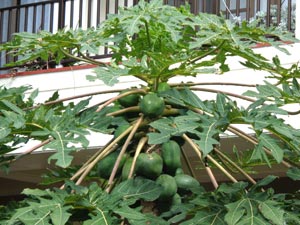 Based on this evidence, the strongest plant virus in Okinawa has disappeared. As I have always said, plants are healthiest when virus-free, and EM has the power to change the agriculture and botanical history of the Ryukyu Islands.

One phenomenon symbolic of this is how well flowers are blooming. If carnations, chrysanthemums and bulbs are also virus-free, they will bloom beautifully like different varieties.

From February our local newspaper, Okinawa Times, has posted reports on flowers every day, but such information has been limited so far.

The Kanhizakura (Prunus campanulata) in photo 3 has 1.5 to 2 times more flowers than usual. Photos 4, 6 and 7 show typical information about Sakura (cherry blossom) published in local newspapers. In February, in addition to Sakura, Ume (Japanese plum) blossoms (photos 5 and 8), Ipe (Pink trumpet tree, Tabebuia impetiginosa) (photo 9), and Cosmos (photo 10), etc. are blooming in ways that have never been seen before.

It is difficult for the general public to understand the effect of the EM barrier, and before long people will forget the less fortunate earlier days and think that Okinawa has been a paradise since ancient times. I would like to document this as a historical record to verify the effects of EM.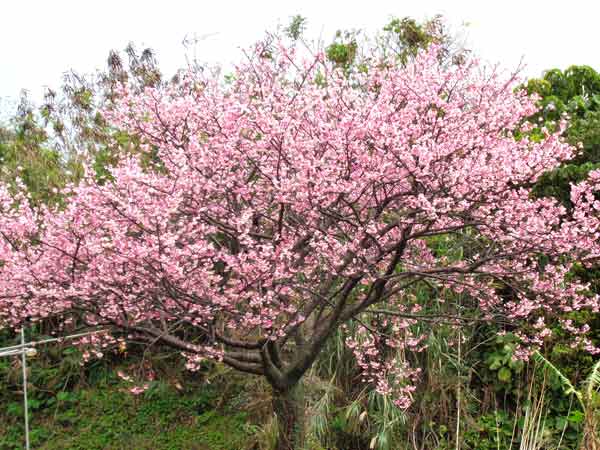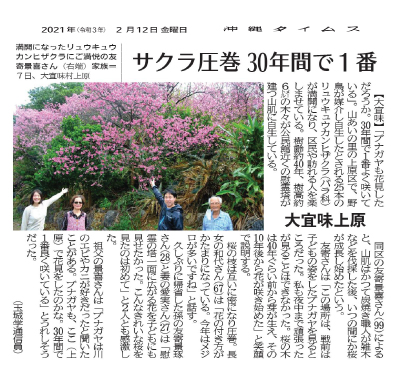 Spectacular Sakura blossoms The most beautiful in 30 years
Ogimi Village, Uehara

[Ogimi] "I wonder if the BUNAGAYA saw the cherry blossoms? These are the most beautiful blossoms in the last thirty years." In Uehara-ku, a mountain village, twenty-five Ryukyu Kanhizakura trees (Prunus campanulata, Rosaceae), the seeds of which are believed to have been brought in by wild birds, are now in full bloom and villagers and visitors alike are enjoying the sight. The trees, about forty years old and six meters around, grow on the hillside where a memorial tower stands near the public hall.

[Note: The "BUNAGAYA" are mysterious beings that love peace and Mother Nature, skillfully utilizing the blessings of the forest and river, and sometimes even making their presence known to us.]

According to Mr. Tomoyose (99) from Uehara-ku, the cherry trees began to grow on the mountain surface, before they even noticed, after the charcoal makers cut down various other trees.

Mr. Tomoyose happily elaborated: "Before the war, this place was where we could see BUNAGAYA in the shape of a child. I stayed up until midnight to see it, but I couldn't. The cherry tree buds sprouted about forty years ago, and the flowers began to bloom ten years later."

The branches of the cherry blossoms are densely packed next to each other and are incredible.
His eldest daughter, Kazuyo (67) notes how, "This year the blossoms cluster together and we have seen many warbling white-eye birds."

His grandson (28) and his wife (27), who returned home after a long absence, said, "We wanted to show our children the cherry blossoms that spread all over the memorial tower." They both were overwhelmed and said they'd never seen such beautiful cherry blossoms.

His grandfather said happily, "I have heard that BUNAGAYA liked river shrimps and crabs. I wonder if BUNAGAYA also saw cherry blossoms here in Uehara. This year is the best in thirty years."     (reported by Mr. Manabu Tamashiro)


Photo caption: Mr. (Keiki) Tomoyose's family (far right), pleased with the Ryukyu cherry blossoms in full bloom (on the 7th in Uehara, Ogimi Village.)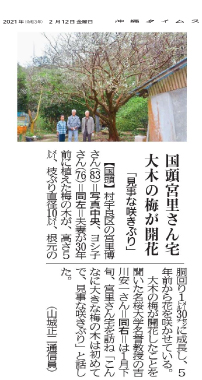 The Miyazato's house, a large Ume (Japanese plum) tree with "Incredibly beautiful blossoms"

Mr. Hiroshi Miyazato in Ura-ku, Kunigami Village (83), in the center of the photo, and his wife, Yoshiko (76), on the left, planted a Ume tree thirty years ago and it has grown to a height of five meters, with a branch diameter of ten meters, and the circumference of the root of the tree is now 1.3 meters. It has been in bloom every year for the last five years.

Professor Yasuichi Furukawa (on the right), an emeritus professor at Meio University, visited the Miyazato house in late January when he heard that the Ume blossoms of a large tree had bloomed. "It is the first time for me to see such a big Ume tree in bloom," Prof. Furukawa commented. "It is amazing in full bloom." (Reported by Mr. Yamashiro)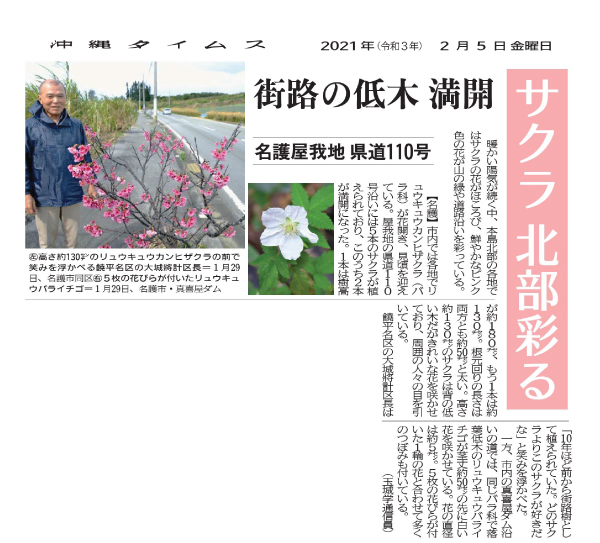 Sakura (cherry blossom) are in full bloom, coloring the northern part of the main island of Okinawa
Small roadside Sakura trees are in full bloom
Yagaji Island, Nago City, Prefectural Road 110

In the warm weather, Sakura blossoms are beginning to open in various areas of the northern part of the main island, and vibrant bright pink flowers color the greenery of the mountains and along the roads.

Ryukyu Kanhizakura (Prunus campanulata, Rosaceae) is in full bloom in various parts of Nago city and are at their best. Five Ryukyu Kanhizakura trees have been planted along Prefectural Road 110 in Yagiji, and two of them are in full bloom. One is about 180cm tall and the other is about 130cm. Both trees are about 50cm in circumference at the root. The Sakura tree that is about 130cm is short, but it has very beautiful flowers that catch the eyes of all those who behold it.

The head of Yohena-ku, Mr. Shokei Oshiro said, happily, that "These trees were planted about ten years ago. I like their Sakura blossoms better than those of any other Sakura trees."

On the other hand, on the road along the Makiya dam in the city, a Ryukyu rose strawberry, a deciduous shrub of the same variety as Rosaceae, has white flowers at the tip of about 50cm up its stem. The diameter of the flowers is about 5cm. Along with a single flower with five petals, it also has many buds. (reported by Mr. Manabu Tamaki)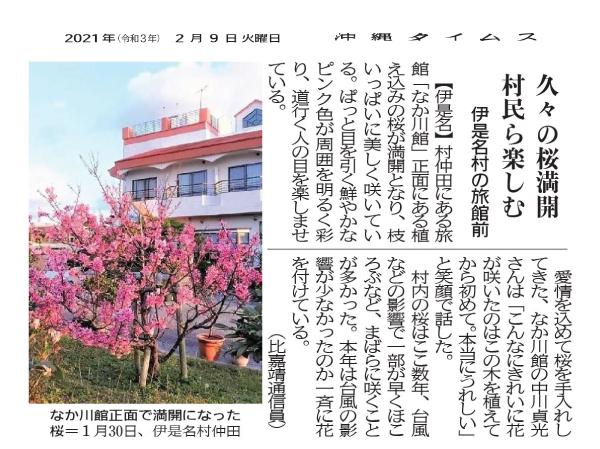 Sakura (cherry blossoms) in full bloom after a long time
Villagers Enjoy Them

In front of an inn at Izena village

The Sakura (cherry blossom) tree, in shrubbery at the front of the Nakagawa Inn at Nakada, Izena village, is now in full bloom, with every branch blooming beautifully. The vibrant bright pink adds brilliant color to the surroundings and is pleasing to the eyes of passers-by.

Mr. Sadamitsu Nakagawa of Nakagawa Inn, who has been lovingly caring for the Sakura commented that, "It is the first time since I planted this tree that the flowers have bloomed so beautifully. I couldn't be happier."

In recent years, some of the Sakura in the village have been blooming too early because of typhoons and other factors. However, the flowers are blooming all at once this year, probably because typhoons had little influence.
(Reported by Mr. Yasushi Higa)

Photo caption: The cherry tree in the front of the Nakagawa Inn in Nakada, Izena village is now in full bloom.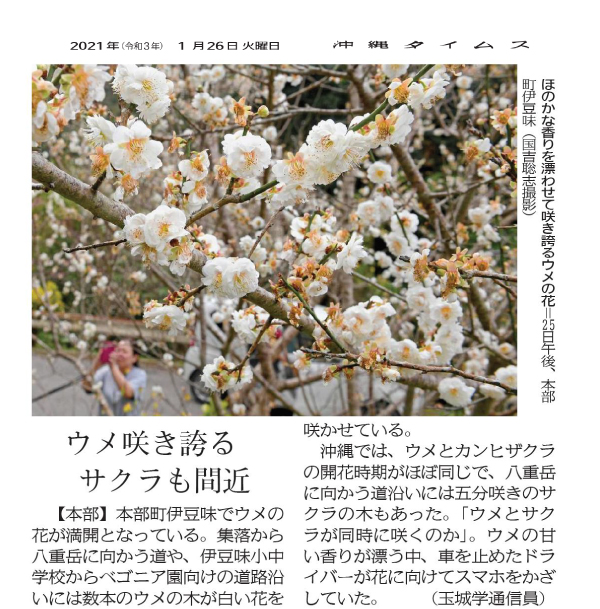 Ume (Japanese plum) blossoms are in full bloom
Cherry flowers (blossoms) are about to bloom

Ume blossoms are in full bloom in Izumi, Motobu-cho, Okinawa Prefecture. Several white flowering Ume trees are in bloom along the road from the village to Mount Yaedake and the road from Izumi Elementary/Junior High School to Begonia Garden.

In Okinawa, Ume and Kanhizakura (Prunus campanulata) flower at almost the same time, and there was a half-bloomed Kanhizakura tree along the road to Mount Yaedake. "Ume and Kanhizakura blossom at the same time, don't they?" The sweet scent of Ume blossoms was in the air, and one of the drivers who stopped his car was holding his cell phone toward the flowers to take a picture. (Reported by Mr. Manabu Tamaki)

Ume blossoms with a delicate fragrance
Izumi, Motobu-cho on the afternoon of the 25th (photo by Mr. Satoshi Kuniyoshi)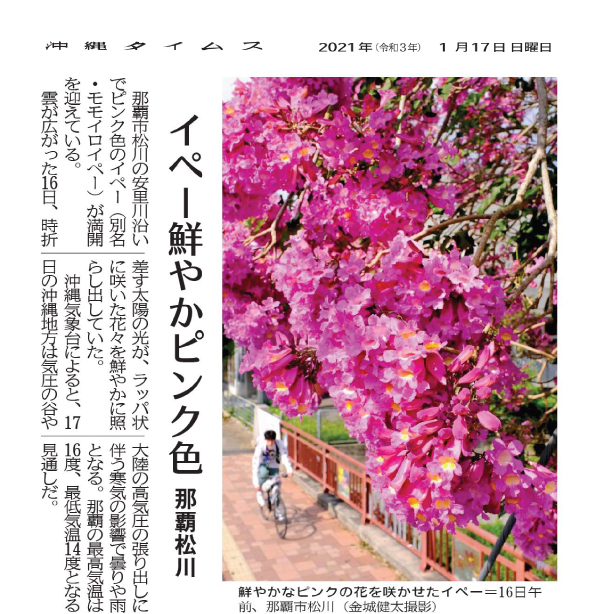 Ipe (Pink trumpet tree, Tabebuia impetiginosa) Bright pink flowers are blooming

Along the Asato River in Matsukawa, Naha City, the pink Ipe (also known as Momoiro Ipe, pink trumpet tree) is in full bloom. On the 16th, a cloudy day, occasional sunlight shone brightly on the trumpet-shaped flowers. According to the Okinawa Meteorological Observatory, the Okinawa region on the 17th will be cloudy and rainy due to the effects of the trough and the cold air caused by a high-pressure system on the continent. The high temperature in Naha is expected to be 16 ℃, with a low of 14 ℃.

Photo caption:
Bright pink Ipe flowers are blooming
Matsugawa, Naha City on the morning of the 16th (photo by Mr. Kenta Kinjo)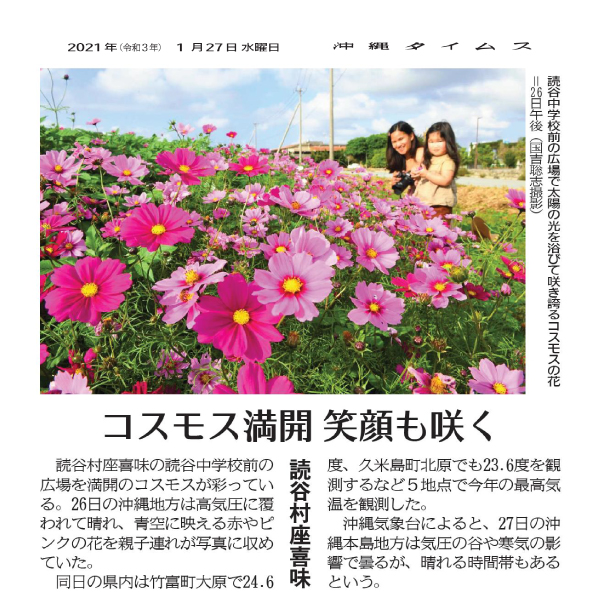 Cosmos in full bloom
Everyone's smiles are blooming, too.

Cosmos in full bloom decorate the planted green space in the plaza in front of Yomitan Junior High School in Zakimi, Yomitan Village. The Okinawa region on the 26th was covered with a high-pressure system and it was sunny, and parents and children enjoyed taking pictures of the red and pink Cosmos that were shining under the blue sky. On the same day, the highest temperatures of this year were observed at five places including 24.6℃ in Ohara, Taketomi-cho and 23.6℃ in Kitahara, Kumejima-cho.

According to the Okinawa Meteorological Observatory, the main island of Okinawa on the 27th will be cloudy due to the effects of troughs and cold air, but there will be times when it will be fine.

(Explanation of the drawing) Cosmos flowers in full bloom in the plaza in front of Yomitan Junior High School
On the 26th afternoon (photo by Mr. Satoshi Kuniyoshi)



※ This column describes the possibilities of EM technology during the state of emergency from the perspective of Professor Higa as an academic.


(March 15, 2021)