Dr.Teruo Higa's


Living A Dream
#50 Events on Sea Day in which EM Mud Balls are Thrown into the Water and Activated EM is Applied.
On July 18, Sea Day (a Japanese national holiday), events took place simultaneously all over Japan in which people threw EM mud balls and poured Activated EM into the water. This was a coordinated national event of EM users, the second such yearly event. This had its origins in the International Event Mud Ball Memorial Day held on August 8, 2009 in Penang province in Malaysia. The thought behind this event was the desire to throw one million EM mud balls into river and streams to symbolize a million apologies on our part for having polluted the environment. As I wrote about this event in the fall two years ago, because of this, the sludge-filled shores of Penang province became clean, and many rivers and streams were revived. The event was held again last year on August 8, and this time it only took 500,000 mud balls for good results to be seen.
This came about because after the event in which a million mud balls were thrown into the water, many groups began using EM on a daily basis, and the use of mud balls in bodies of water became a regular part of environmental education programs in schools. Naturally, the same event involving EM mud balls will be held this year on August 8; it has evolved to where the event now serves to strengthen the bonds between EM users, and it is also being lauded for the wonderful way in which it has cleaned the ocean and rivers in Penang province.
Three years ago, when EM volunteers who were attempting to clean up Ise Bay, Mikawa Bay, and Kumanonada heard about this event in Malaysia, they proposed to hold the same sort of event in Japan. Soon, in September of that year, under the banner of "A Mission to Clean up Ise Bay, Mikawa Bay, and Kumanonada" they threw over 200,000 EM mud balls, and poured around 30 tons of Activated EM, into the water.
With this encouraging event as an impetus
,
led by U-net (United Networks for Earth Environment), last year EM users throughout Japan strengthened their sense of solidarity, and held simultaneous events throughout Japan on Sea Day aiming to make the seas around Japan, and the world, clean and abundant.
Last year, due to the strains of overwork, I was not able to participate, but this year Mr. Suzuki, the governor of Mie Prefecture, made sufficient time to join us early in the morning, and I explained to him about EM activities and the significance of the events on Sea Day. I had time to discuss the activities of volunteers and how EM can help in revitalizing the prefecture, and the governor was very positive about these. I participated in events in Tsu City and Yokkaichi City and in the late afternoon participated in the "Meeting on Cleanup in Ise Bay, Mikawa Bay, and the Hori River" held in Nagoya. Last year Mayor Kawamura attended this event, but this time Mr. Omura, governor of Aichi Prefecture, spent nearly two hours at the event. During this time I explained to him about how EM is cleansing the environment. Governor Omura was well aware of the EM activities in Aburagafuchi town and Mikawa Bay, and we also received a very moving message from Mayor Kawamura thanking EM volunteers for cleaning up the Hori River.
At the follow up evaluation meeting, there was a report on how the Asahi Newspaper, which has heretofore reported favorably on the successes of EM, ran an article critical of EM. The article contained negative opinions about EM by Professor Matsunaga of Yokkaichi University (Environmental Science) and people in Fukushima Prefecture. Below is my response to this article.
Researchers Who Do Not Verify in the Field the Results Found by Throwing EM Mud Balls, and Pouring EM, into Rivers and Ocean.
On May 28, the Asahi Newspaper (Chubu edition) ran an article under the heading "Researchers Find Problems with the Use of EM to Clean Rivers." The article gave comments by Prof. Matsunaga of Yokkaichi University to the effect that because EM mud balls contain large amounts of nitrogen and phosphorous they are a cause of red tide.
From 2000 to 2001, to clean up the Ariake Sea and deal with the loss of color in the harvested seaweed, one million EM mud balls were put into sea. This resulted in the sea becoming cleaner, a dramatic reduction in red tide, and not only an end to the problem of fading color in seaweed, but a revival of asari clams and fan mussels, which had been in severe decline. Seeing all this, the local fisherman's cooperative began actively using EM. Now, EM is widely used throughout Japan and abroad as an effective measure to clean the oceans.
In the ten years since, I have not heard a single report that EM mud balls or EM has made the seas dirtier, or that red tide has appeared as a result of their use. Quite the opposite: there are reports (from the Nagasaki Fisheries Cooperative and from the Inland Sea) that the incidence of red tide has decreased, and EM and EM mud balls are now commonly used as a countermeasure against red tide.
Further, in the outer moat (
sotobori
) of Tokyo, when some 500,000 EM mud balls were thrown in, the pollution caused by large amounts of algae bloom and red tide completely disappeared. The water is now clean enough to be used for human consumption in emergency situations.
The phosphorous and nitrogen contained within EM mud balls is taken in by the EM itself and is not nitrogen and phosphorous that causes pollution. When EM multiplies and breaks down sludge through fermentation, those decomposed materials become food for zooplankton and phytoplankton, which in turn is food for fish and shellfish. As a result, rivers and seas become clean and abundant, the nitrogen and phosphorous within the water is taken in within the microbials and fish and shellfish, and becomes a major factor sustaining abundant biological resources. When this material recycling does not take place, then phosphorous and nitrogen become the worst kind of water pollutants.
Further, in Fukushima Prefecture, when they measured the BOD (biological oxygen demand level) of EM, since the concentration was higher than the standard for discharged water, they decided that it was a material that would pollute rivers and called a halt to its use there. It is absurd to conclude that simply because it has a high BOD its use should be prohibited. We shouldn't forget that detergent and soap have a much higher BOD.
Presently, around the world EM is the most widely used microbial product in aquaculture, and in the more than thirty years since it was first developed, there has not been a single complaint about EM polluting rivers, lakes, or seas.
Just to make sure, we checked to see whether Yokkaichi University or Fukushima Prefecture had actually verified the situation after EM mud balls and EM 1 had been used. In neither case had they made on site inspections; they had merely maintained that, theoretically, the use of EM will worsen the situation. They lack the impartiality researchers must have. To all those enthusiastically involved in EM activities, I say this: don't let these empty theories bother you, and based on past performance, throw as many EM mud balls, and pour as much Activated EM as you can into rivers and seas. Even one more mud ball or cc of EM will make a difference.
Radioactive Pollution of Beef Spreading to the Entire Tohoku Region, and Countermeasures
Pollution by the radioactive element Cesium 137 has spread over a broader area than anticipated, and the shipping of beef cattle, first from Fukushima, and then from Miyagi, has been curtailed. Cesium 137 has affected not only hay, but pastures over a wide area, with many at the top range of what is considered safe levels. If this kind of feed is used, over time internal radiation exposure will increase, and meat soon will exceed maximum acceptable levels. Measurements have been taken from leaf mould, too, used in gardening, that far exceed maximum acceptable levels, and similarly manure in areas over a 100 km from the site of the nuclear power plant accident has been found to have high levels of radiation. For this reason the Ministry of Agriculture and Fisheries has requested that farmers voluntarily halt the use of, and in some cases have banned the use of, leaf mold and cow manure, but for the livestock industry, in which cows are central, this has become a matter of life and death. Whether hogs and chickens are safe all depends on their having an unpolluted source of water.
As I have already stated previously, EM has the power to significantly lower the level of radiation within the body, in other words internal exposure to radiation. Further, if the concentration of EM is increased, and cow manure and other material is decomposed through fermentation, and radiation levels stay as they are, within a few months it is possible for the levels to drop to safe levels.
Fortunately, EM is registered as a microbial product for use in livestock, and there are no legal problems with using it. Using high quality Activated EM, use a 100-220 dilution in drinking water, a 5-10 dilution in feed, and spray a 50-100 dilution in barns until foul odors disappear; over time continue to spray both the cows and the entire barn until they are all sprayed with EM. It is even more effective if you add 5% of EM 3 (phototrophic bacteria) to the Activated EM.
The question of how long it takes for internal radiation to disappear is entirely speculative, but considering experiments done in Belarus to see how quickly internal radiation disappeared in children, it is possible to see a drop to acceptable levels in 30-50 days. If one skillfully multiplies the EM, the cost is negligible, it's entirely legal and doesn't contravene any directives put out by the government, and one should not forget that it also serves to protect the individual farmer.
Existing technology does not provide a decisive solution to the problem, so generally farmers can only move cows out of affected areas, give them feed that has not been compromised, and simply wait for the internal radiation to gradually dissipate. For calves, and cows about to be shipped out for slaughter, this is impossible. The only way left is to use EM. The amount of radiation won't change on its own, and in the present situation it might increase but never decrease. If EM weren't effective we would soon know, and likewise if it is effective it is possible to soon ascertain this. I very much hope that this information will reach farmers raising beef cattle in Fukushima and Miyagi prefectures, and that they will put it into practice. I promise that EMRO will come to the aid of any farmer who implements this.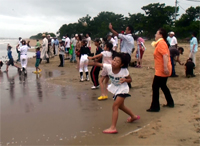 Volunteers throwing EM mud balls at the beach at Suzuka City.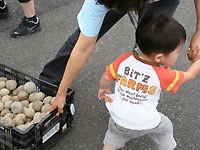 At Yokkaiichi City people also threw in mud balls at the same time.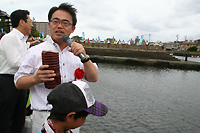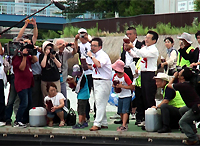 Governor Omura of Aichi Prefecture led people in pouring Activated EM into the water.