Dr.Teruo Higa's


Living A Dream
#17 EM Festa in Central America
This already somewhat old news, but the EM Festa in Central America was held from June 18-19, along with a follow-up workshop for graduates of the EARTH University in Costa Rica. Many of you no doubt already know this, but EARTH University is the top private agricultural university in Central and South America. EARTH University was founded mainly through the efforts of the president of Costa Rica, a recipient of the Nobel Peace Prize, to promote agriculture in Central and South America using funds raised by the Inter-American Development Bank and from other sources around the world.
The majority of the students are selected through an interview process carried out in all the countries of Central and South America. Once selected they are given a full scholarship and are required after graduation to work directly on the frontlines of agriculture. The policy is based on the conclusion that in order to develop agriculture in Central and South America it is vital to strengthen leadership on the ground, so as a rule graduates are prohibited from becoming government employees.
Thus there is no graduate program at EARTH, but instead a rigorous training program, including general education as part of the curriculum. Outstanding students are afforded the same benefits as staff members. Because of this, the university has graduated a steady stream of leaders with a solid education. The critical point now is how to further promote and expand the work of the university's graduates in the field.
EARTH University's curriculum is centered on sustainable agriculture, and until the introduction of EM
TM
it mainly focused on organic agriculture. EM
TM
became part of the curriculum starting in 1995, and EMRO (EM Research Organization) has been sending long-term visiting professors to the university ever since, and doing whatever it can to help with the production of EM
TM
and in many other areas. But apart from Dr. José Zaglul, president of the university, Dr. Panfilo Tabora and a handful of others, the majority of professors did not believe in EM
TM
whatsoever.
EM
TM
has shown remarkable success in combating disease and pests in bananas and has shown how the malodorous waste residue from bananas can be turned into high quality EM Bokashi compost, thus completely transforming the banana industry in Costa Rica. Bananas are Costa Rica's largest agricultural export, but because of the environmental damage done by heavy use of chemical fertilizers and pesticides, the industry had been sharply criticized by organic agriculture and environmental groups around the world, and its marketing and management fell into a recession.
EM
TM
not only brought about a breakthrough in this predicament in the banana industry in Costa Rica, but also was applied in many other areas including animal husbandry, fisheries, and to improve water quality and in other areas of environmental remediation. Through this, Costa Rica has become an EM
TM
model nation in Central America. Because of this the majority of graduates of EARTH University are viewed as EM
TM
specialists. After graduation they have been making enormous contributions to agriculture with EM
TM
in their home countries and are greatly respected by all.
President Zaglul cleared his schedule during the EM Festa in Central America so that he could participate, and in his opening remarks during the Festa he noted how, with EM
TM
at its center, the university alumni association has become more robust. He thanked the alumni association for their support of their alma mater and pledged that he would do his best to aid in the expansion of EM
TM
. His remarks revealed great confidence in the future of EM
TM
-based organic agricultural at EARTH University including the cultivation of banana and pineapples and other products.
Breakthroughs in EM Organic Bananas
At the Festa we heard reports on the use of EM
TM
in Nicaragua to deal with oil contamination and in the environment and recycling, but some of the more notable presentations concerned the use of EM
TM
to combat Black Sigatoka and nematodes in bananas. These applications of EM
TM
were all done by the banana production union in Costa Rica and revealed EM
TM
as being far more effective and economical than agrochemicals, with a very high cumulative effect as well. In conversations afterwards the head of the union told me that through the banana industry in Costa Rica has been saved.
Last year in this column I wrote about EM bananas at the Tanabe Farm in Ecuador. The 200 hectares under cultivation then have now increased to 1,000, and the majority of the product is shipped to Japan. So finally people in Japan are now able to purchase EM bananas, and it is only a matter of time before bananas throughout the world will change to EM
TM
-grown bananas.
Self-supporting Enterprises of Impoverished Farmers in Peru, Made Possible by EMTM
After the EM Festa in Central America was over, I had the opportunity to visit a model district in Peru where impoverished farmers are able to run self-supporting enterprises through the use of EM
TM
. This district, the Huaraz district, is in northern Peru in a mountainous area over 3,000 meters high where the mountain peaks are perpetually covered in snow. With the cost of chemical fertilizers and agrochemicals increasing several fold, this poor region fell on hard times. Many residents gave up farming and great numbers of farmers migrated to cities, where huge slums then arose. The same problem faces an increasing number of countries around the world.
At first the farmers tried organic farming as a way out of this impasse, but this totally failed, leading to even greater poverty in the region. Fortunately a couple that had graduated from EARTH University lived in the area and they had great success in using EM
TM
to help address the issue of rural poverty. All organic household waste, including night soil, was treated with EM
TM
, and used to solve agricultural, environmental, and health issues. People went as far as to say that EM
TM
had saved the region.
Similar issues related to poverty are found throughout Peru, and to deal with this the Ministry of Agriculture has set up a network of organizations throughout the country to assist poor farmers to be independent. The activities of EM
TM
in Huaraz have grown to the point where they are now working closely with these national organizations, and some 400,000 households are now in compliance.
On my visit to Peru I met with leaders of these organizations and they expressed their desire that EMRO provide formal technical support so that EM
TM
can spread throughout Peru and that fundamental solutions to problems of poverty, the environment, and health issues can be found. We are now in the midst of preparing an agreement.
While in Peru I gave lectures at a university in Huaraz and at La Molina National Agricultural University, the university President Fujimori used to be president of. Even though these lectures on a weekend, many leaders turned out and we heard numerous case studies. Among these talks we heard that Dr. Maezono, president of La Molina University, had visited me in Okinawa twelve years ago and had requested even then for cooperation to disseminate EM
TM
throughout Peru, and now after all these years this day had come. La Molina University is the top agricultural university in Peru, has a network throughout the country and is actively involved in joint research with other universities.
In his opening remarks President Maezono said, "I can't tell you how happy I am that Dr. Higa has finally visited ort university. Now we will be able to completely solve not only agricultural and environmental issues, but also the issue of poverty. I'm looking forward to your guidance and to working closely with you." When we see the results brought about by the support organizations helping poor farmers in Huaraz become independent, we can see that President Maezono's convictions are becoming a reality.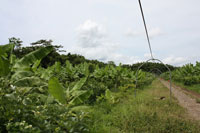 Banana field at EARTH University.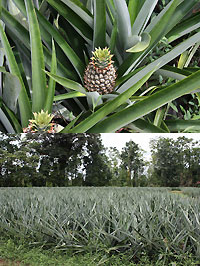 Pineapple fields at EARTH University.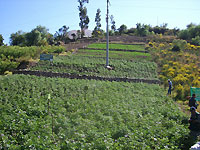 Fields in the Huaraz region in northern Peru.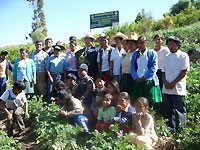 Dr. Higa with farmers in Huaraz.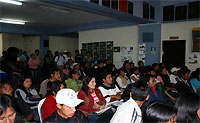 A lecture at Huaraz Agriculture University in Peru.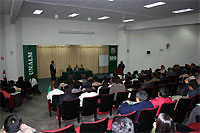 Dr. Higa lecturing at La Molina National Agricultural University in Peru.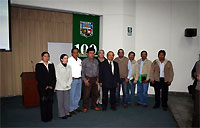 Commemorative photo taken with staff of La Molina National Agricultural University.