Dr.Teruo Higa's


Living A Dream
#44 More Thoughts on Avian Influenza and Foot-and-Mouth Disease
The virulent H5N1 strain of avian influenza is spreading throughout the country. H5N1 has been found in dead wild birds in all regions of Japan, and there is latent avian influenza at a concentration unheard of before.
Because avian influenza and human influenza viruses, as with foot-and-mouth disease, become inactive within a few minutes if placed in an environment of pH 4-4.5, if a 20-40 part dilution of EM, which has a pH of under 3.5, is sprayed in barns, and if a 100-200 dilution is added to drinking water, then this can be a complete countermeasure against these viruses. Naturally, it is also necessary to thoroughly deal with wild birds.
The foot-and-mouth disease outbreak last December in Korea spread to the whole northern region, and the outbreak in Miyazaki Prefecture pales in comparison. While 290,000 livestock (cows and hogs) were destroyed in Miyazaki, in Korea this has already reached some 2,000,000. Starting last September, those involved with EM in Korea, mainly at Jeonju University, were informed of the success attained in preventing the spread of foot-and-mouth disease in Miyazaki, but apparently Korean experts were very skeptical about these results.
Naturally, experts in Japan still don't believe in EM; the success in preventing the spread of the disease in Ebino City, they insist, was due to effective initial responses and thorough disinfecting. Korean experts boasted that since they have experienced outbreaks of foot-and-mouth disease a number of times their situation would not be as bad as that in Miyazaki, but the type of foot-and-mouth disease this time was the same highly infectious type as in Miyazaki, meaning that existing measures are ineffective. As in the case of Ebino City, we are starting to see proof that it is difficult to stop the spread of the disease without the help of EM.
In the Japanese language internet site run by Hankyoreh Sarangbang, there is a report dated January19, 2011 on how the use of EM completely stopped the spread of foot-and-mouth disease. This took place in Gyeonggi Province, in the northern region of Korea, where the disease was rampant, and involved a Mr. Myung Jung, who raises 150 head of Korean beef cows. Foot-and-mouth disease had spread to another farm within 200 meters of Mr. Myung's farm, and since the livestock waste treatment dealer who was suspected of spreading the disease had stopped by Mr. Myung's farm, too, for a time Mr. Myung's cows were among those set to be destroyed. It was reported, however, that four inspections at his farm were all negative, and six other livestock farmers whom Mr. Myung had provided with Activated EM were all able to avoid the foot-and-mouth disease "tsunami" this time.
Reports also confirm that other livestock farmers who were already using EM did not experience foot-and-mouth disease infection. Further, while avian influenza, too, in Korea has reached serious proportions, at present poultry farms using EM had no damage. I would like more people involved in livestock farming to know about these invaluable reports.
As these positive reports have increased, Jeonju University has begun transmitting EM information from Miyazaki Prefecture to all the provinces in Korea, and all the Korean provinces have begun proactively using EM.
EM as an Effective Measure Against Influenza and Other Viruses
I've explained many times about the use of EM against the above diseases, but I've had many requests for more specific recommendations regarding use, so here I would like to again discuss the principles involved.
It is a definite fact that EM is able to suppress most of the harm caused by viruses, from influenza, foot-and-mouth disease, all sorts of inflammatory viruses and AIDS, and there are examples of countries, Kenya, for instance, where governmental entities have approved its use to fight the outbreak of AIDS.
One point in support of this is found in the fact that EM has a pH below 3.5, and when one makes Activated EM and adds 10-15% more sugars, the pH will fall to 2.8-3.0, producing very high quality Activated EM. Most viruses do not live well in an acidic environment. At a pH below 4.5 they become inactive in a few minutes, while in a pH 4.0 environment they become inactive in about 30 seconds. A 1:10 dilution of pH 3.0 Activated EM will have a pH of 4.0, while a 1:100 dilution will have a pH of 5.0
When you want to quickly wash your hands or gargle, spray a 10-20 dilution of Activated EM onto your hands so they're completely damp, and then spray the inside of your mouth a few times so that it is completely covered.
Repeat this before you leave the house and after you return, as an effective preventive measure. Since the lower the pH the more effective EM is, when spraying small amounts it is much more effective to use full-strength EM. Those who are bothered by the odor of EM can add herbal extracts to it. When EM is below pH 3.5 it can be stored in a container for 30-40 days with no loss of strength, but if it does begin to change and you notice an odor, the best thing to do is to discard the liquid, thoroughly clean the container, put in fresh liquid and begin using it again. Needless to say, in this situation it is best to use EM or Activated EM that uses brown sugar.
A second point in support of the efficacy of EM is found in the clearly demonstrated antioxidant effects of EM, and at the same time the anti-ionic effects of EM and the regenerative power of EM that provides catalytic energy. These effects not only apply to humans, other animals, and plants, but prevent the degradation of food and improve its functionality, prevent the degradation of buildings and revitalizes them, prevent the degradation of industrial materials and improve their functionality, and are widely used in energy-saving fields and in the prevention of damage by static electricity and electro-magnetic waves.
It's generally accepted now that if one lives in a house built using EM one won't catch colds or influenza, etc. Even if it isn't an EM built house, if a 300-500 dilution of EM is added to humidifiers and the room is constantly "EM-ized," the regenerative power of the human body will be strengthened; further, if one uses EM in cleaning, laundry, washing dishes and vegetables and in the bath, and drinks homemade EM made with brown sugar, it is possible to live completely free of influenza.
Also, in various culture experiments, when EM Sheets or EM Ceramics, or containers with EM, are placed beneath the petri dish, microbial pollution is greatly decreased, and the multiplication of viruses and cancer cells is significantly suppressed. Therefore if one places oneself in a space in which EM and EM-related materials are used, makes a concerted effort to eat food grown using EM such as EM vegetables, fruit, rice, eggs, milk, and meats, the multiplication of cancer, viruses, and harmful microbes can be suppressed, and it will be possible to maintain optimum health.
There have been cases of people reporting that they used EM but it wasn't effective, but my answer to these is that they haven't used it in a way in which results would occur. Needless to say, just lightly soaking ones hands in a 100-500 dilution of EM is sufficient to significantly sterilize and render viruses inactive. There are quite a few nursery schools now that have set up had hand washing facilities in classrooms and at the entrance to rooms and that are spraying EM in order to even more effectively fight viruses. The medical costs of treating influenza are huge, but if people thoroughly use EM it may be possible to lower that amount to nearly zero.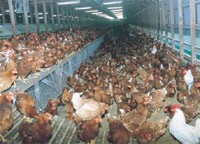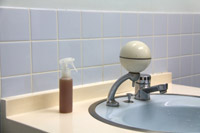 Using a 100-200 dilution in drinking water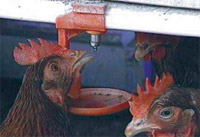 Using a 10-20 dilution of Activated EM for washing hands